It's no secret that life is expensive. That doesn't mean we have to sit around bored! Here are 10 things to do in Tulsa for cheap. You can save money, enjoy this great city we all love, and have a great time in the process.
Tulsa is a great city to explore on the cheap. There's plenty you can see and do and there's so much exploring to be done in the great outdoors, all year long, that you don't have to worry about finding a location that makes a worthy backdrop for your budget friendly outing.
Today we're going to share our top 10 favorite things you can do in Tulsa without spending a lot of money. It doesn't matter if you are budgeting to save for future goals, trying to save because the price of everything is going up in price, or if you just want to be conscious of how much you spend on entertainment, this list has something for you!
From arts and educational experiences to hiking, biking, and picnics with your dogs, we have activities that the whole family will be able to enjoy together as well.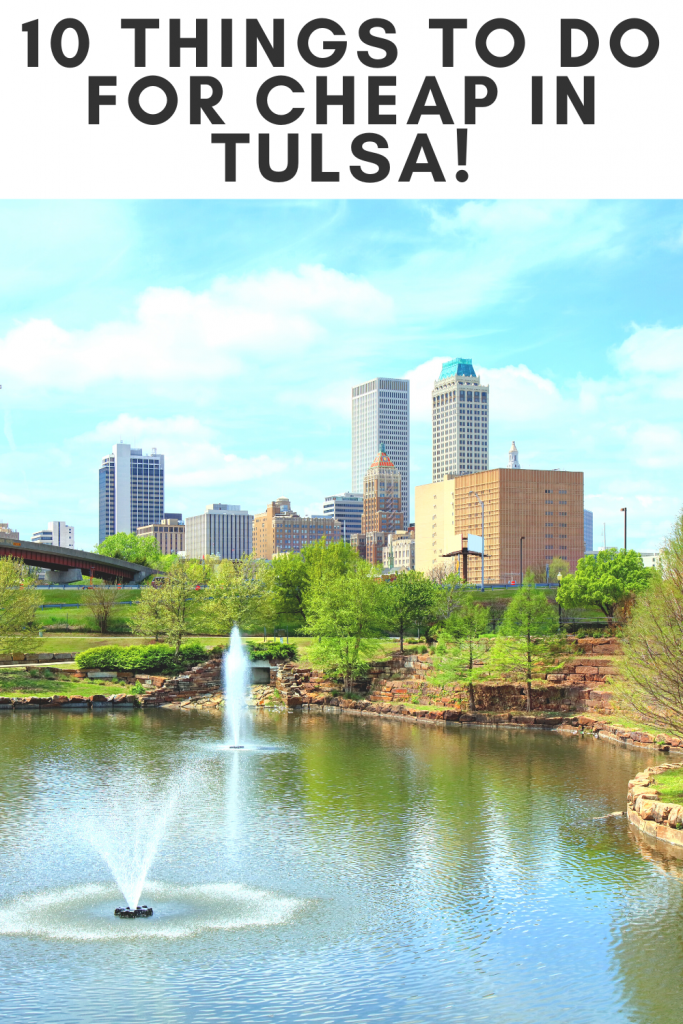 10 Things To Do In Tulsa For Cheap:
Some of these activities and ideas are free and others are just really inexpensive. You don't have to worry about shelling out a lot of money or spending a ton of time on the road (gas is a big part of those expenses these days) in order to enjoy these options!
The Gathering Place is a park that is near the riverside drive in Tulsa. It is about 100 acres and has all kinds of trails, boat rentals, restaurants, concerts, playgrounds, and more. Check out their website for events too!
The Philbrook Museum of Art is housed in an Italian villa! It is home to exhibits from creators from Europe, America, Asia, Africa, and even Native cultures. It's also surrounded by amazing gardens that you can explore!
The Gilcrease Museum is home to the world's largest collection of art from the American West! It's housed in the museum and there are many Native American artifacts included as well. The gardens around the museum are designed using gardening styles from all different time periods!
The Cave House is a popular landmark in Tulsa and was first built in 1924 as…a chicken restaurant! It was built during the time of prohibition and it was a place to get a drink when that wasn't really possible if you catch our drift!
It's now home to some neat things like the historic stories, interesting information, and unique architecture.
The Tulsa Zoo consistently makes it on our lists of things to do with adults and kids alike because it is so much fun and it is an inexpensive way to spend a whole day! It's great family fun that is educational as well as entertaining.
This is a great spot for a picnic and the wildlife in the area is pretty tame so don't be surprised if they come up and do a little mooching while you are enjoying your picnic lunch! Don't miss out on this great spot for a summer picnic with the whole family. You can also spend the day playing some frisbee, soccer, or other outdoor activities in the park.
Woody Guthrie Center is is dedicated to preserving his work and celebrating his life and legacy. It's an educational facility which supports students and teachers with resources and materials about Woody's role in American history and social justice. It's a cool place to check out and a great option for a cheap thing to do in Tulsa.
A strange phenomenon here in Tulsa and a must see spot at least once or twice whenever you have the chance. Always a great spot for some Instagram worthy photos and more.
A minor league field here in Tulsa which is a great spot for a day out without spending a ton of money. You can take in a game on the cheap here in Tulsa.
With more than 26 miles of paved running, hiking, biking, and walking trails you can't go wrong with a visit to River Parks if you are looking for a chance to spend the day outdoors without having to spend any money! They also have great wildlife sculptures, playgrounds, and more! Tons of spots for gorgeous photos in the gardens and of course the Arkansas river is a beautiful spot for a photo!