When it comes to Thanksgiving things can really sneak up on us…especially this year when there is so much going on in the world! Let this 'Week Before Thanksgiving to-do List' help you plan for a smooth, fun, and fabulous Thanksgiving celebration!
If you are hosting Thanksgiving you are probably already stressing about how to do it right this year! After a long tough year a lot of us are really looking forward to the holidays. Instead of stressing, use this plan to get ahead so you can enjoy yourself completely when the day arrives!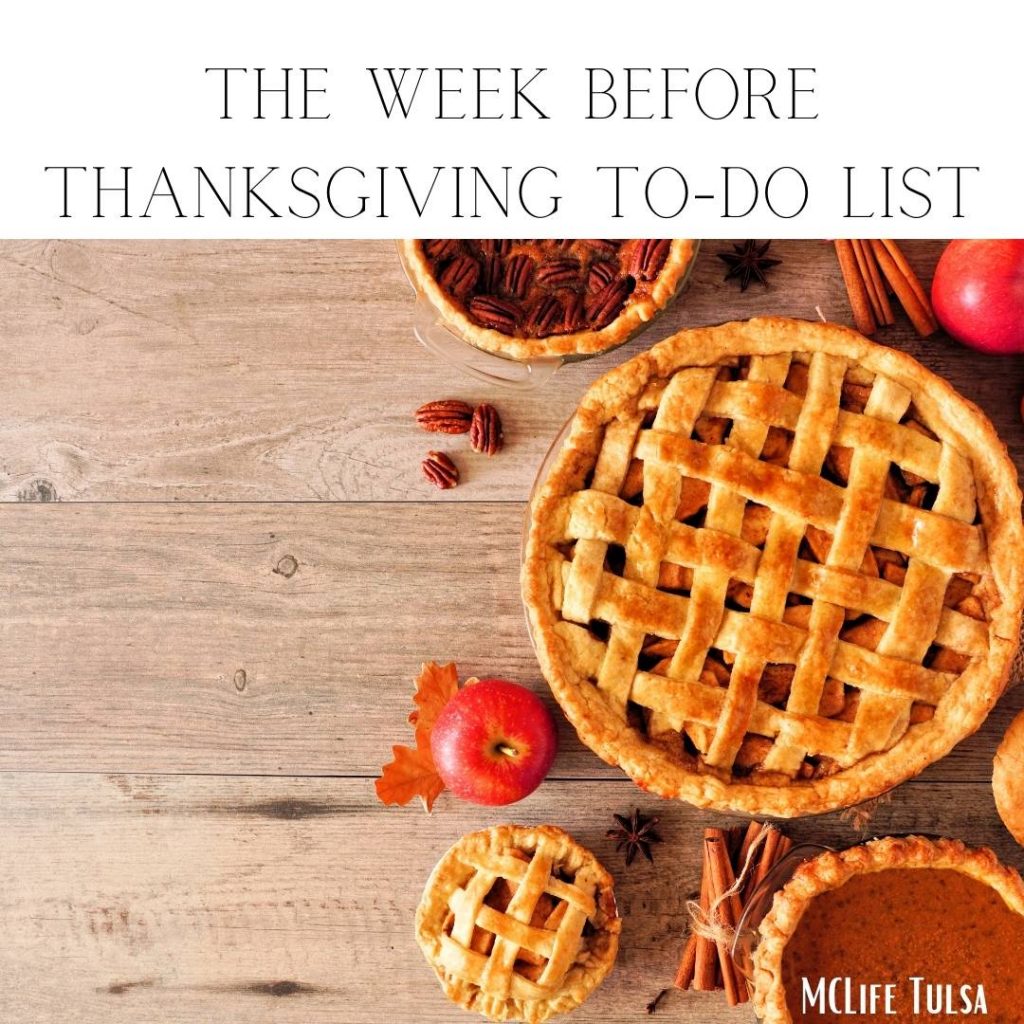 Thanksgiving In Tulsa | Thanksgiving Checklist
We're going to work our way through the most difficult parts of planning for hosting Thanksgiving. Hopefully some of these things are items that you didn't even think of…we want you to have everything covered so you can have the most perfect Thanksgiving in Tulsa this year! 
The first thing is decorations. Get those checked off the Thanksgiving checklist! They can be simple – use your fall decorations and just remove any of the bats, halloween themed items, etc.
Autumn in Tulsa is a beautiful time of year so you can also throw those curtains open and let some of that fall beauty and crisp air in through the windows!
Inventory Kitchen Supplies
There is nothing worse than waking up on the day you need to cook a big meal and realizing that you don't have the right pots, pans, roasting or basting gear, etc. Do a run through of your kitchen supplies and make sure that everything is in order. If you let someone borrow some tools you'll need, now is the time to ask for them back or order new ones!
Thanks to online shopping and curbside pickup at most stores these days you can get everything you'll need for your Thanksgiving meal without having to go into the store.
Order Groceries
The next thing that should be on your Thanksgiving checklist if you are hosting Thanksgiving is the groceries. You need to order those ahead of time! Don't wait until the day before or the day of, it might seem smart so you have the freshest of the fresh ingredients but truly, it's risky.
The good news is that most Thanksgiving staples hold up well, things like root veggies, frozen turkey, etc. can be kept on hand without worrying about them going bad!
Ordering groceries is great because you don't have to deal with the impulse buying in the store. You can get exactly what you need on your list and not have to debate any last minute changes to your meal plan.
If you are going to have any kids attending while you are hosting Thanksgiving, you might want to try out some kids crafts. Click that link above for some easy thanksgiving themed crafts for kids.
For the adults and teens, click the plan activities links for some fun and easy to throw together Thanksgiving day celebrations and fun things that you can do at home, indoors, outdoors, etc. with very little muss and fuss!
Clean The House
This is the last thing on the list for a reason – it's hard to keep a house clean! It's best to just clean it the day before Thanksgiving! This means you will wake up ready to cook in a clean kitchen with the added bonus of not having to run around the day of Thanksgiving straightening up.