We are sharing the best pet beds so you can choose the perfect option for you and your pups. We want all the pets in Tulsa and all the pets in our MCResidential communities to have the comfiest of comfy beds!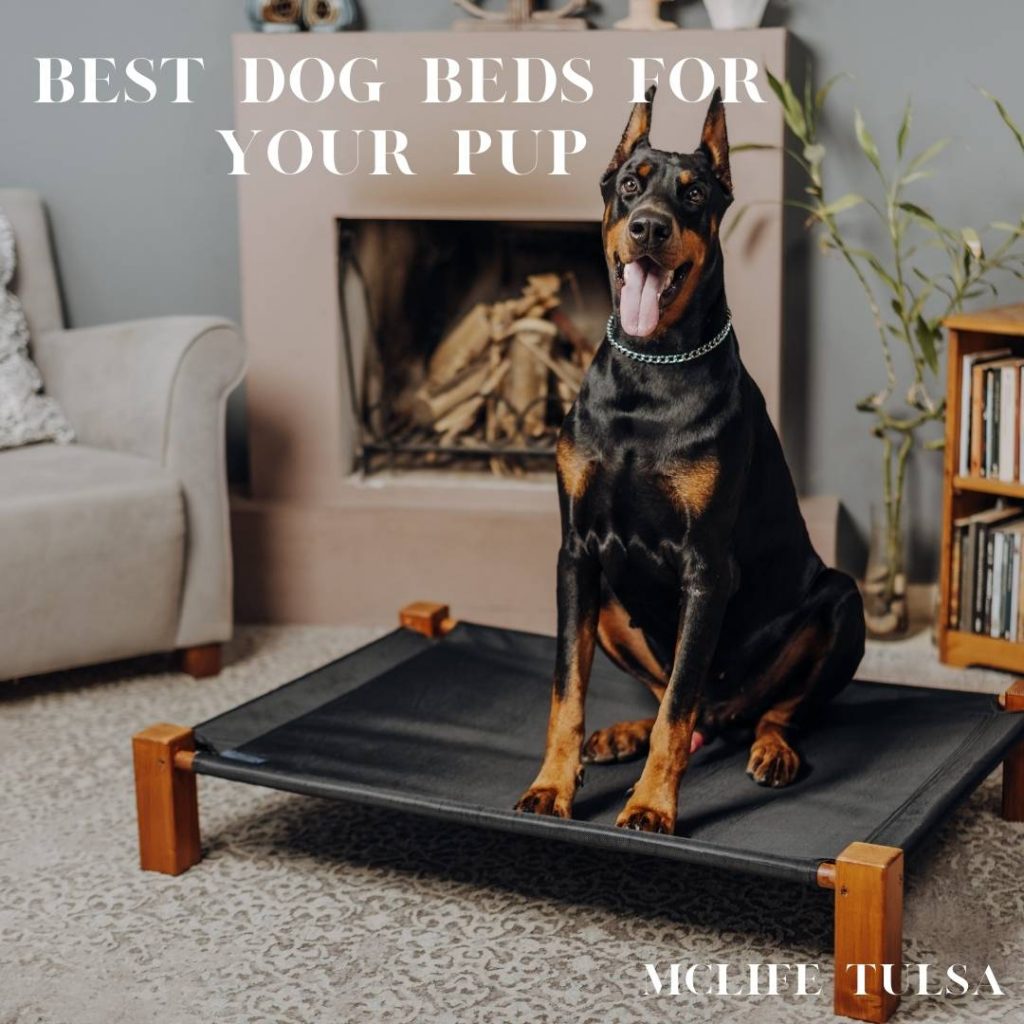 Looking for the best pet stores in Broken Arrow?
There are several options for great pet stores in Tulsa. We'll share them below so you can shop in store or online for pickup if that's more your preference. If you don't mind shopping online you can also check out some of the coolest and most stylish pet beds further down in this post (there's some really great options)! 
1410 East Hillside Dr Broken Arrow, OK 74011
(918) 355-6424
8221 E 61st St Ste A Tulsa, OK 74133
(918) 806-2316
9146 S Yale Ave Ste 205 Tulsa, OK 74137
(918) 600-0660
Best Pet Beds to Spoil Pets In Tulsa:
Here are some of our recommendations of the best pet beds. There are some really cool choices and you can even find some to match your decor choices. If you like things to be very cohesive in your apartment we can't blame you…there's something so adorable about matching your dog beds to your home's aesthetic!
Our furry friends deserve the best. We are all masters of sitting still more often and cozying up on the couch just wouldn't be the same without our pets showing us the way.
If you like a bed that has a squishy shape and is very soft this is a great choice. You can cram this bed into the car when you have to travel, fit it into different spaces in your home, and or throw it up onto the furniture so your pet has a designated spot!
If you have a more modern looking apartment to outfit with dog beds you'll want to check out this boho chic dog bed from Urban Outfitters. It's colorful while still being simple and of course it's comfy for your furry buds!
Looking for a trendy style without the damaging environmental effects? All of the Diamante Rectangulo Beds are made from recycled clothing items. Each one is handcrafted in Los Angeles so you'll also have a literal work of art to cheer up any space in your home!
Do you have a pup with anxiety or stress? If so, this calming pet bed is your best choice. It's extra cozy and it snuggles up around your pet to give them a calm, safe feeling space, and you can't beat the price!
Barkbox beds are awesome, as they're comfortable and great for pets with joint issues. The bolster around the bed makes them feel safe and secure and it's great for pets who like to lounge propped up against something!
Did you know that Casper also makes dog beds? They put all of their expertise in making amazing mattresses to work for your pets too! Now your pet can have the comfiest memory foam bed as well!
This option looks like a couch for dogs! It's stylish, sleek, and super comfy. It's available in a variety of colors and sizes to suit your needs and the orthopedic bed is great for even older pets!
Have a pup who gets really hot? How about a pet who has trouble getting up because they're older, have bad joints, or other health issues? This elevated dog bed is a great choice for them!
This is another great choice for elevated beds! This one has a bolster all around the edge for added lounging and comfort for your pets!
If you are a fan of mid century modern furniture you are going to flip for this bed. It's so stylish, you just add a bed inside to suit your pets needs!
This is a double layer bed that is awesome for pets with joint issues and large breeds who need a solid foundation to avoid those issues in the future. It doesn't hurt that this bed is also very stylish and sleek!