If you are looking for some great winter recipes, you can't beat these tasty and cozy ideas. They are perfect for an evening at home with family! We're also sharing some of the best grocery stores in Broken Arrow and in Tulsa, so you can head on out to get all the ingredients you'll need.
Cooking meals at home is great for your budget and can be calming and relaxing. You might find that you look forward to some time in the kitchen after a long stressful day!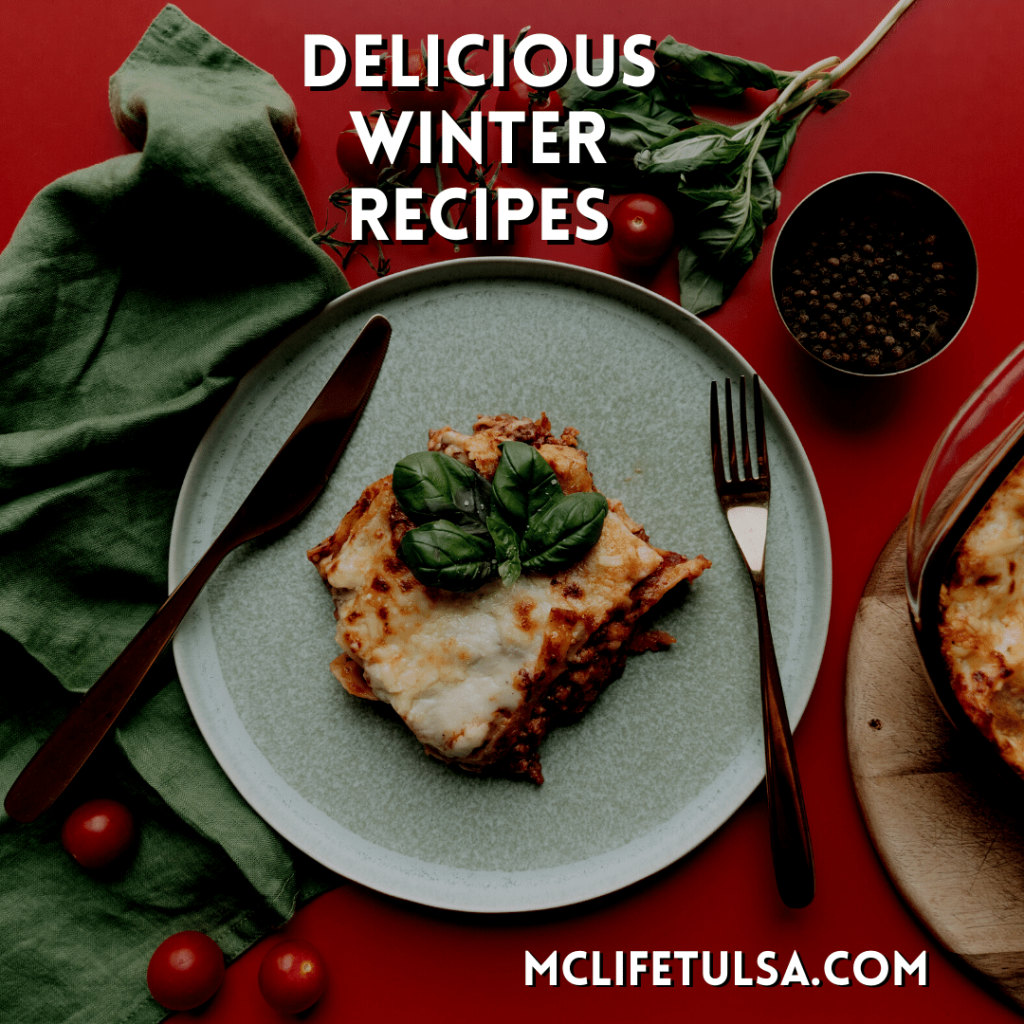 The Best Winter Recipes:
Let's start off with some of the best winter recipes. All of these meals can be made year round but they are especially delicious during those cooler months when we want something warm and cozy.
The great thing about the slow cooker is that it makes everything stress free. You put ingredients in, give it a stir, and it's ready to go!
Is there anything better than sloppy Joe's?! Well…not until they came in a casserole form there wasn't!
Another delicious Crockpot recipe for a classic soup that everyone will love. This one is loaded with cheesy goodness and all the warmth and comfort you crave from a winter dinner recipe.
This cowboy casserole is topped with tater tots and always a family friendly winner in our house. It's loaded with flavor and a variety of ingredients but even picky eaters love this one.
Sheet pan meals make life in the kitchen so easy. You just have the one pan to wash at the end of the night, which means cleanup is a breeze!
If you have never made a pot roast before you have to try out this simple version. It's classically delicious and no one can turn down the melt-in-your-mouth pot roast!
Lasagna is a classic comfort food and during the winter months it is a hearty classic that everyone will be craving. Try out this delicious lasagna recipe that can easily feed a crowd!
If you have an Instant Pot get that thing working for you during these cooler winter months! Instant Pot chicken and dumplings are super tasty and indulgent but very easy to make thanks to the electric pressure cooker.
Beef enchiladas are so flavorful and delicious but they can be kind of a pain to make. This casserole version simplifies it and is easy to serve on busy weeknights.
Last but not least we have a classic pot pie recipe. The flakey crust, tender filling, and second helpings will have you feeling all kinds of happy about winter nights at home!
Best Grocery Stores in Broken Arrow, Oklahoma | Best Grocery Stores in Tulsa: 
These are some of the best grocery stores in the area. You'll find that some of the best grocery stores in Broken Arrow are pretty close for those of you searching for the best grocery stores in Tulsa. It's great to have some overlap in this area with plenty of stores to choose from! 
1100 E Kenosha St Broken Arrow, OK 74012
7130 S Memorial Dr Tulsa, OK 74133
851 E Hillside Dr Broken Arrow, OK 74012
1770 S Elm Pl Broken Arrow, OK 74012
3702 S Peoria Ave Tulsa, OK 74105
9136 S Yale Ave Tulsa, OK 74137
7847 E 71st St Tulsa, OK 74133