In an emergency it is important to know what to do. This is never more true than when dealing with pets who often can't tell us exactly what is wrong. If you want to learn more about pet first aid you are in the right spot.
Pets can get themselves into all kinds of little troubles and when that happens it's good to be able to know what to do so you can save yourself a lot of money, stress, and potentially the loss of a pet!
We are also sharing some local vets that you should have on hand in order to take care of those situations after you have administered first aid, or in the case of a true emergency. It's important to know where you can go to get your pet cared for immediately.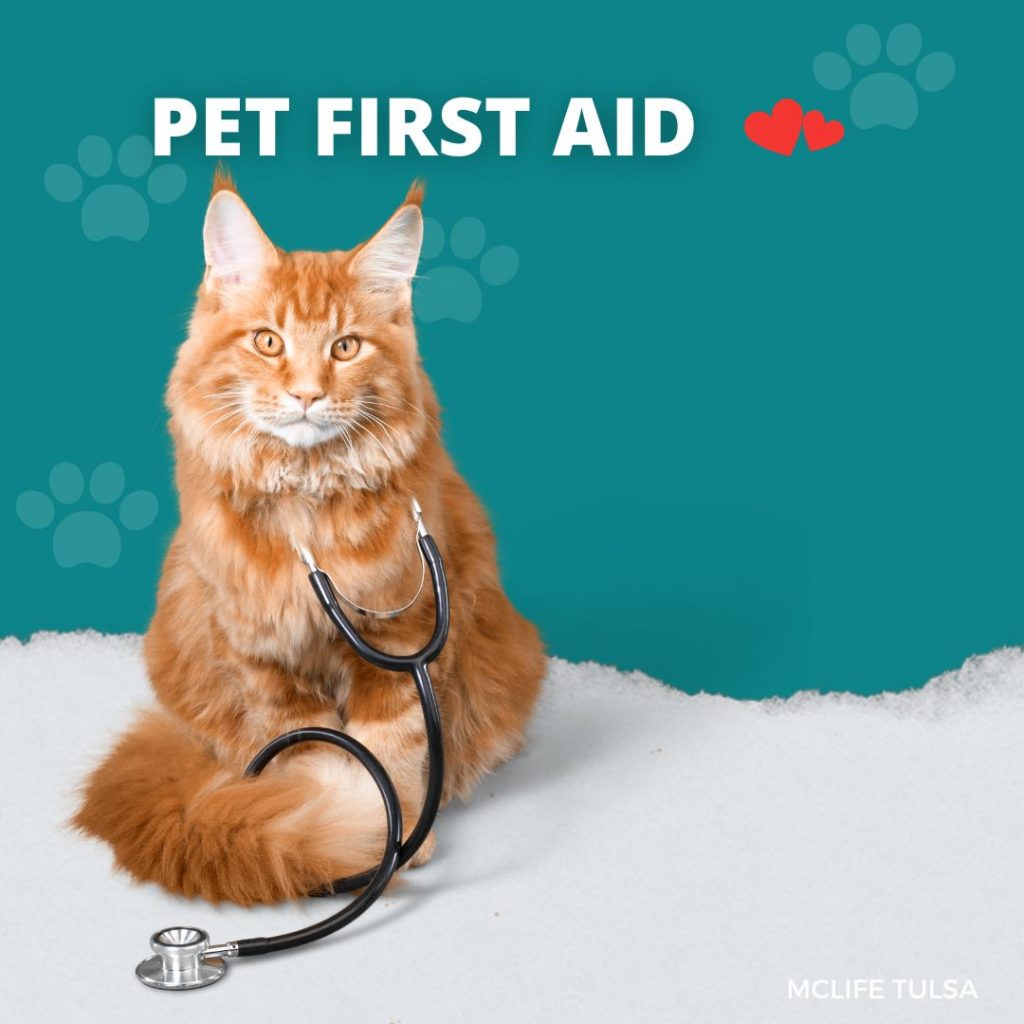 What to Include in a Pet First Aid Kit:
This guide will help you create a pet first aid kit so that you are ready to respond in any situation where your pet might need some mild to moderate care.
Remember, if you feel like you can't handle any situation, it's best to take your pet to the emergency vet and let them do their job! In any case, it's always good to have supplies on hand for when things inevitably go wrong at the very worst time!
Your Pet First Kit Should Contain: 
Absorbent gauze pads
Adhesive tape
Cotton balls or swabs
Fresh 3% hydrogen peroxide to induce vomiting (always check with veterinarian or animal poison control expert before giving to your pet)
Ice pack
Disposable gloves
Scissors with blunt end
Tweezers
OTC antibiotic ointment
Oral syringe or turkey baster
Liquid dishwashing detergent (for bathing)
Towels
Small flashlight
Alcohol wipes
Styptic powder
Saline eye solution
Artificial tear gel
Phone number, clinic name, address of your veterinarian as well as local veterinary emergency clinics.
Make sure to go through your kit every three months or so and check to see that everything is good, up to date, and fresh.
Poison Control Center
ASPCA Animal Poison Control Center:
888-4ANI-HELP (888-426-4435)
Veterinarians In Tulsa:
Heritage Veterinary Hospital
4011 S 79th E Ave, Tulsa, OK 74145
(918) 627-8575

Oklahoma Veterinary Specialists
1501 West 78th Street South, Tulsa, OK 74132
(918) 299-4900

Marina Animal Clinic Inc
9968 E 21st St, Tulsa, OK 74129
(918) 663-5758
Affordable Pet Care
13111 E 11th St, Tulsa, OK 74108
(918) 437-6735

City Veterinary Hospital
3550 S Peoria Ave, Tulsa, OK 74105
(918) 747-1641

Riverbrook Animal Hospital LLC
3750 S Peoria Ave, Tulsa, OK 74105
(918) 748-4400

Woodland West Animal Hospital
9360 S Union Ave, Tulsa, OK 74132
(918) 299-1208

Tulsa General Veterinary Hospital
7910 S 107th E Ave, Tulsa, OK 74133
(918) 806-1111

Animal Emergency Center
4055 S 102nd E Ave, Tulsa, OK 74146
(918) 665-0508

Cedarwood Veterinary Clinic
1412 S Harvard Ave, Tulsa, OK 74112
(918) 749-6588