It's a new year and if that means you have some new goals that you want to prioritize, we're here to help! You can get into a new routine to help you meet and surpass any goals that you might be setting for yourself and your life.
This guide will help you get organized and build a new routine that works for you. We're also giving you some tips on building a healthy regimen as well as sharing some of our favorite gyms in Broken Arrow, Oklahoma.
Finally, we're going to get you organized at home as well with some helpful shopping spots that will sell everything you need to whip your home into tip top shape!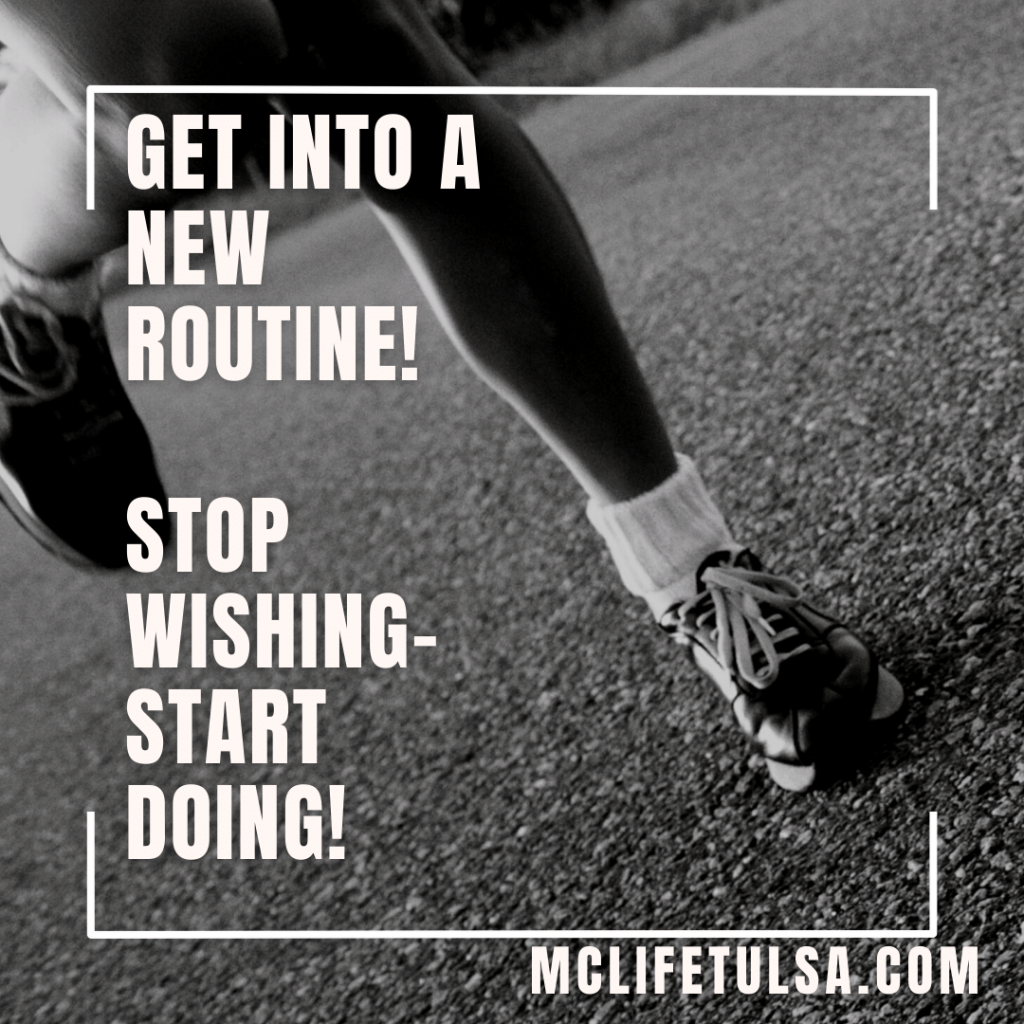 How to Build A New Routine:
First, let's talk about building a new routine. If you are looking for ways to get yourself organized this year it's going to start with a good routine. In the chaos of the last few years it's not surprising that a lot of us have been living day to day without any real structure or plan! We can change that to help make your year a less stressful and more successful year.
Ditch The Clutter
Both physical and virtual clutter needs to go before you can truly embrace a new routine and regimen. Clean up your inbox and your apps on your phone, delete those toxic friends and family members from your list.
When it comes to decluttering your home you should plan to get rid of, donate, or sell anything that you haven't used. If you are worried about missing things after they are gone, box the items up and put them in storage for a few months. If you haven't needed anything enough to go and get it out, then it's time for it to go!
Resolve Stress
Stress is a big reason why a lot of us can't focus on new routines and why we fall back into unhealthy and unorganized patterns. It doesn't matter if it's getting some help with your mental health or facing some situations that you've been putting off..Get those under control and the results will be felt instantly!
After you've resolved your stress inducing situations you'll be free to work on the emotional aspects of building a new and more healthy routine for yourself.
Small Steps
Don't set yourself up to fail. Start off small with new routine changes. Plan out what you'd like to achieve and then find small ways to implement that into your day to day routine.
Stick To It
Not everything you set out to do can be achieved in a few days. Commit to the changes you are making for a month.
If at that time you don't see it working out then you can change course. It's going to take you time both emotionally and physically to get into new routines!
Follow Suit
If you have a habit that already works for you, link your new goals up to that. Find a way to incorporate your goals into systems that are currently working for you!
Have A Backup Plan
Things often go wrong and that's going to feel like a disaster. If you have a backup plan you'll be all set and ready to take on those changes. Raining so you can't go for a run? That's okay, you have an online workout for indoor cardio to do!
Pair Up
Find a buddy! There are tons of groups on social media as well as local people and friends who would be more than willing to help keep you accountable to reach your goals. It's a great way to interact more with others while still reaching for your own goals.
Rewards!
Work some rewards into your plan! It's nice to have something to work towards and it's also helpful to give yourself rewards along the way to help keep you motivated for your long term overall goals.
The Best Gyms In Broken Arrow, Oklahoma:
Are your goals for this year fitness related? Not to worry, we've got you covered with these awesome gyms in Broken Arrow, Oklahoma!
The Hub Gym
507 N Main St Broken Arrow, OK 74012
10Gym
1800 S Aspen Ave Broken Arrow, OK 74012
https://10gym.com/broken-arrow-ok/
The Ridge Club
7751 E Freeport St Broken Arrow, OK 74014
https://www.forestridge.com/information
Planet Fitness
1808 N Elm St Broken Arrow, OK 74012
Genesis Health Club
2360 W Kenosha St Broken Arrow, OK 74012
https://www.genesishealthclubs.com/locations/broken-arrow.html
Health Zone
5353 E 68th St S Tulsa, OK 74136
https://www.saintfrancis.com/location/health-zone-at-saint-francis
Life Time
10642 S Memorial Dr Tulsa, OK 74133
https://www.lifetime.life/life-time-locations/ok-south-tulsa.html
Vasa Fitness
7990 E 51st St Tulsa, OK 74145
https://vasafitness.com/locations/ok/tulsa/
Anytime Fitness
6450 S Elm Pl Broken Arrow, OK 74011
https://www.anytimefitness.com/
Where to Get Organizational Supplies in Tulsa:
If you need to organize your home you'll need to head out and do some shopping for things like totes, baskets, bags, and organizers for drawers and closets. Here are some recommendations for where to find those things in Broken Arrow!
Walmart
2301 W Kenosha St, Broken Arrow, OK 74012
Walmart
6310 S Elm Pl, Broken Arrow, OK 74011
Walmart
3900 E Hillside Dr, Broken Arrow, OK 74014
The Container Store
5644 N Pennsylvania Ave, Oklahoma City, OK 73118
World Market
5356 E Skelly Dr, Tulsa, OK 73115
Pottery Barn
1864 Utica Sq Utica Square Shopping Center, Tulsa, OK 74114