Need a new workout routine to keep you busy? Can't make it to the gym but still want to stay fit? These indoor workout routines will keep you active, fit, and healthy!
It's easy to get a great workout from your apartment. There's no need to hunt down fancy gym equipment or gear. You don't have to spend a small fortune (or a large one) setting yourself up for success with indoor workout routines.
Today we're sharing some of our best tips for working out in small apartments…tips that will help you live your best life while not driving your neighbors insane! We are also sharing with you some of the best ways to get indoor exercise in Tulsa…and wherever you might be.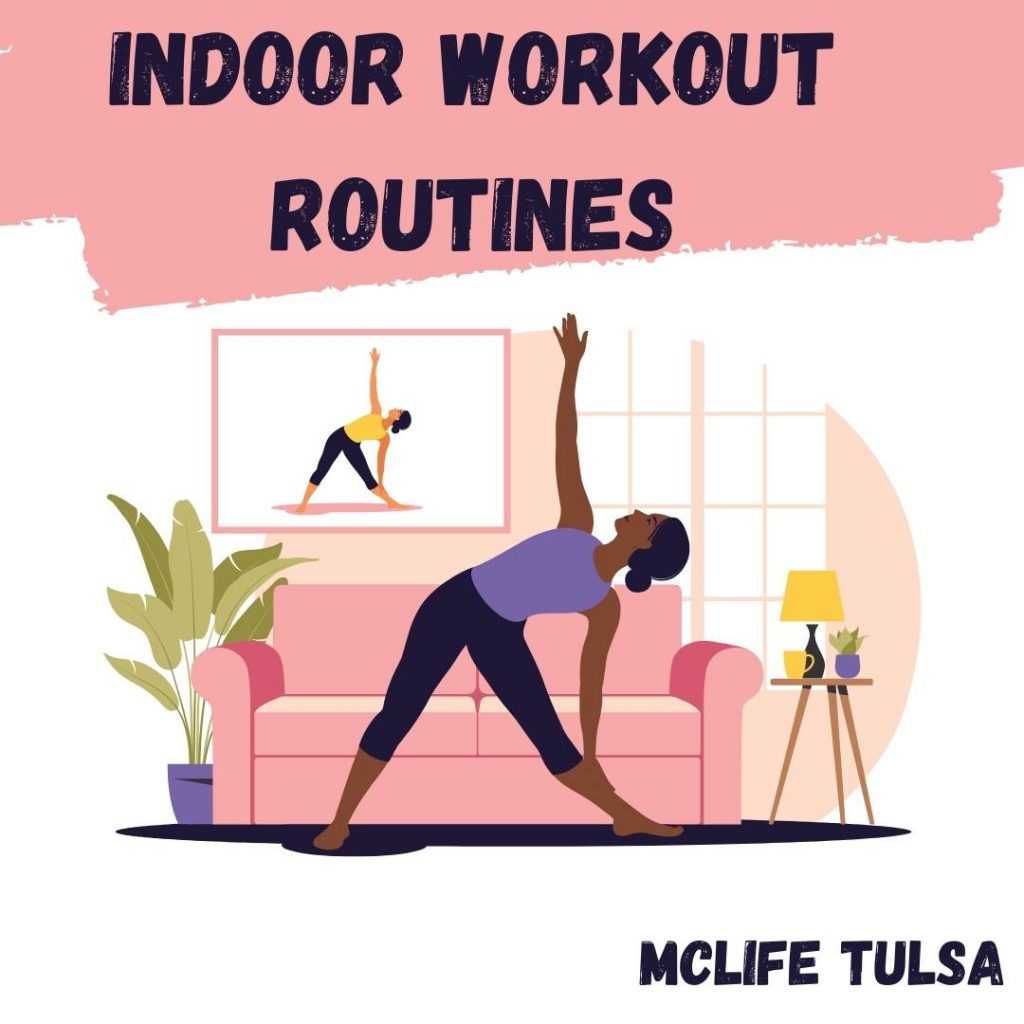 How To Exercise At Home Efficiently: 
These are our best tips for getting the most out of your space, time, and effort with indoor exercise. You can exercise at home, see great results, and not have to make yourself crazy in the process. Check it out!
Don't Be Scared To Move Things Around
Are you thinking that there's no space in your home for a gym? You don't need a huge space or a lot of equipment. You may need to shift some furniture or move the coffee table but that's easy to do and it burns a few extra calories!
Focus on Bodyweight and Resistance Exercises 
The things we go to the gym for like weights and machines are nice but you can recreate that effect at home with body weight and resistance bands! These things take up minimal space to store as well, which means you don't have to clutter your home with more stuff!
Sometimes knowing what to search for on YouTube makes all the difference. Here are some ideas:
Hip thrusts
Glute bridges
Crunches
Sit-ups
Hollow body holds
Planks
Front raises
Lateral raises
Rear delt raises
Control Your Diet To Manage Fat Loss
A lot of the battle for fat loss is won in the kitchen! Getting more active will help but ultimately you need to make changes in the kitchen in order to see optimal results. Eating healthy is the key to having more energy, lessening brain fog, and staying fit!
The Best Indoor Exercise In Tulsa…And Everywhere! 
Here are some great indoor exercise routines that will help you mix things up, get more active, and it's all without having to leave your home! Most of these things can be done at home in 30 minutes or less.
YouTube Home Bodyweight Exercise Routines
YouTube Home Cardio Exercise Routines
Resistance Band Workout Routines
Stretching Guides for Beginners
All of these are great resources and best of all…they're free! You don't have to shell out a bunch of hard earned cash in order to get fit and healthy and workout at home! This is a great resource for learning more about the emotional benefits of exercise. Working out at home might not just make you feel better physically, but also emotionally!