Vet care costs in Tulsa, like everywhere else, can sneak up on you. Be prepared for the best pet care possible with these tips and tricks.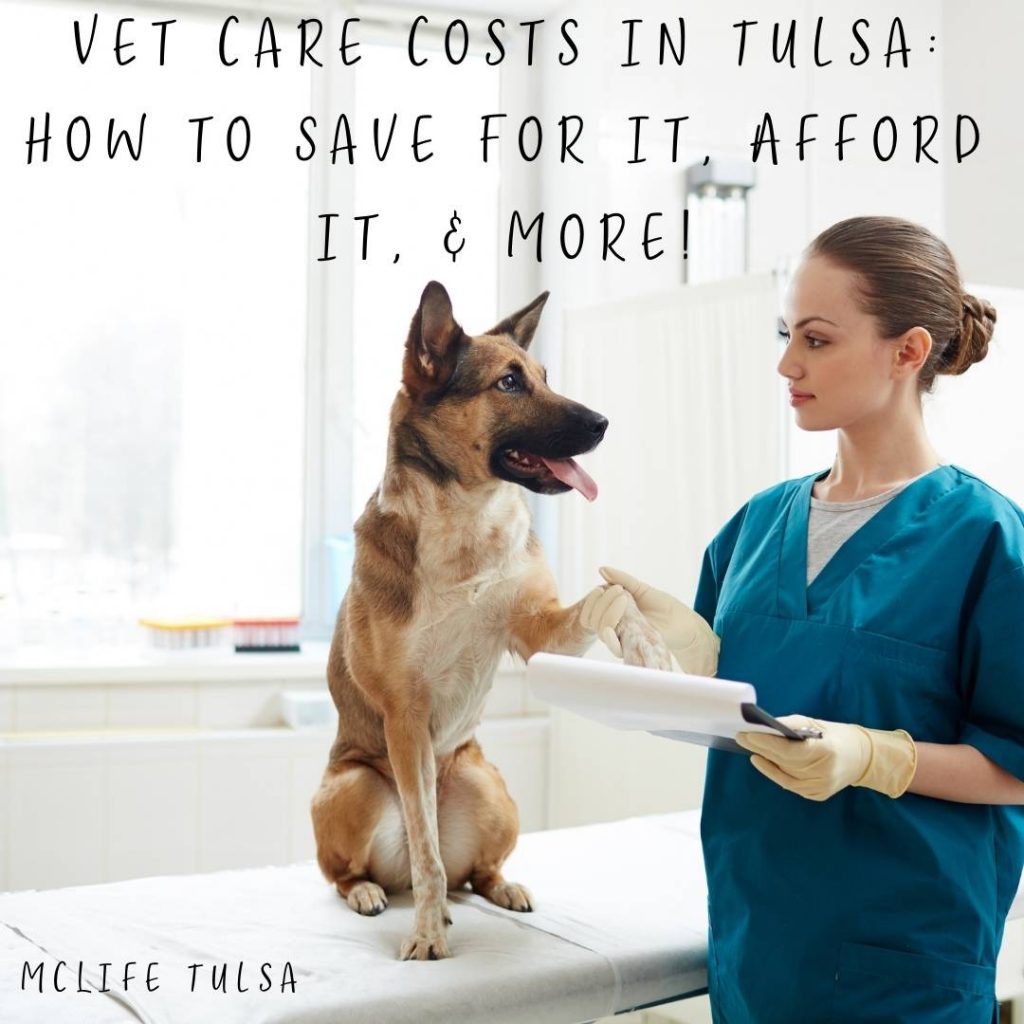 Vet Care Costs In Tulsa: How To Save For It, Afford It, & More!
There is no way to truly predict how much it will cost you to care for a pet from the start of their life with you until the end. It will depend on where you live, what their genetics are like, sheer luck, and a whole bunch of other variables that can change in the blink of an eye.
Accidents happen. Mistakes happen. Little things add up to a whole lot of trouble. The good news is that there are ways to plan for vet care costs in Tulsa!
Savings
Being prepared can be a huge help. Before you get a pet, start saving! Research common vet costs in your area, remember that the high end of estimates say it could cost as much as $3,470 to care for a dog for one single year!
The more you can save before you get a pet the better! Consider figuring out what it would cost to feed, groom, and care for a pet for one month with no emergencies figured into that cost.
Once you have that number you can start saving that amount for as long as possible so that when you do get your pet you have a little bit of a cushion. Keep adding to that savings if you do not purchase pet insurance so that when an emergency comes up you'll be covered.
Pet Insurance
There are tons of companies that cover pet insurance. They sell policies based on age, current conditions, breed, and more. They'll figure out how much it might cost to care for your pet and sell you a policy according to that estimate. These plans cover everything from emergencies to routine care depending on your policy selections.
Credit Cards
Credit cards are an option for paying for pop up medical bills but you can also consider special credit cards like CareCredit which works at a lot of vet offices as well as human medical offices. It's a nice security blanket for surprise medical bills for both humans and pets alike.
Check out their billing options too! You can usually end up with several months to pay interest free if the bill is a certain amount.
Shop Around
Don't be afraid to shop around for the best price for supplies for your pet as well as care for them. Vet's offices can have just as much difference in pricing as stores and restaurants. Call around and check pricing on specific care or just general visits and more!
It's also great to call and get a second opinion when something unexpected happens. This will allow you to get the best price and the best care for your pet.
Research Your Breed
Do a lot of research on the pet and breed of your choice. Before you get any pet it is best to know what medical issues your breed will be prone to having. That will help you plan for prices and vet care costs for your pet, or have knowledge on how to take preventative measures to best avoid issues!
Once you know how much it will potentially cost for your pet and their potential medical problems you can decide if pet insurance is worth the price or if you can save that amount before you get your pet then you'll be prepared. It's always best to be prepared for the worst case scenario. That means you won't have to consider putting your pet down or surrendering them to a shelter because the costs for care are too expensive.
Options for a Tulsa Veterinarian:
If you are new to Tulsa or just new to owning a pet in Tulsa we have some recommendations for Tulsa veterinarians. Here are some of the wonderful options for vet centers, emergency clinics, and more in the area.
Heritage Veterinary Hospital
4011 S 79th E Ave, Tulsa, OK 74145
(918) 627-8575
Oklahoma Veterinary Specialists
1501 West 78th Street South, Tulsa, OK 74132
(918) 299-4900
Marina Animal Clinic Inc
9968 E 21st St, Tulsa, OK 74129
(918) 663-5758
Affordable Pet Care
13111 E 11th St, Tulsa, OK 74108
(918) 437-6735
City Veterinary Hospital
3550 S Peoria Ave, Tulsa, OK 74105
(918) 747-1641
Riverbrook Animal Hospital LLC
3750 S Peoria Ave, Tulsa, OK 74105
(918) 748-4400
Woodland West Animal Hospital
9360 S Union Ave, Tulsa, OK 74132
(918) 299-1208
Tulsa General Veterinary Hospital
7910 S 107th E Ave, Tulsa, OK 74133
(918) 806-1111
Animal Emergency Center
4055 S 102nd E Ave, Tulsa, OK 74146
(918) 665-0508
Cedarwood Veterinary Clinic
1412 S Harvard Ave, Tulsa, OK 74112
(918) 749-6588