Sometimes you don't have to go far to find that perfect vacation spot. If you are looking for a quick getaway your answer might be right in front of you through a staycation in Tulsa. Save money on travel, and get to know all the wonderful things that Tulsa has to offer.
Tulsa is a wealth of activity and has so much to offer. From the scale of big city buildings and constant activity of city life to the picturesque setting and flowing waters of River Park, there is something here for everyone.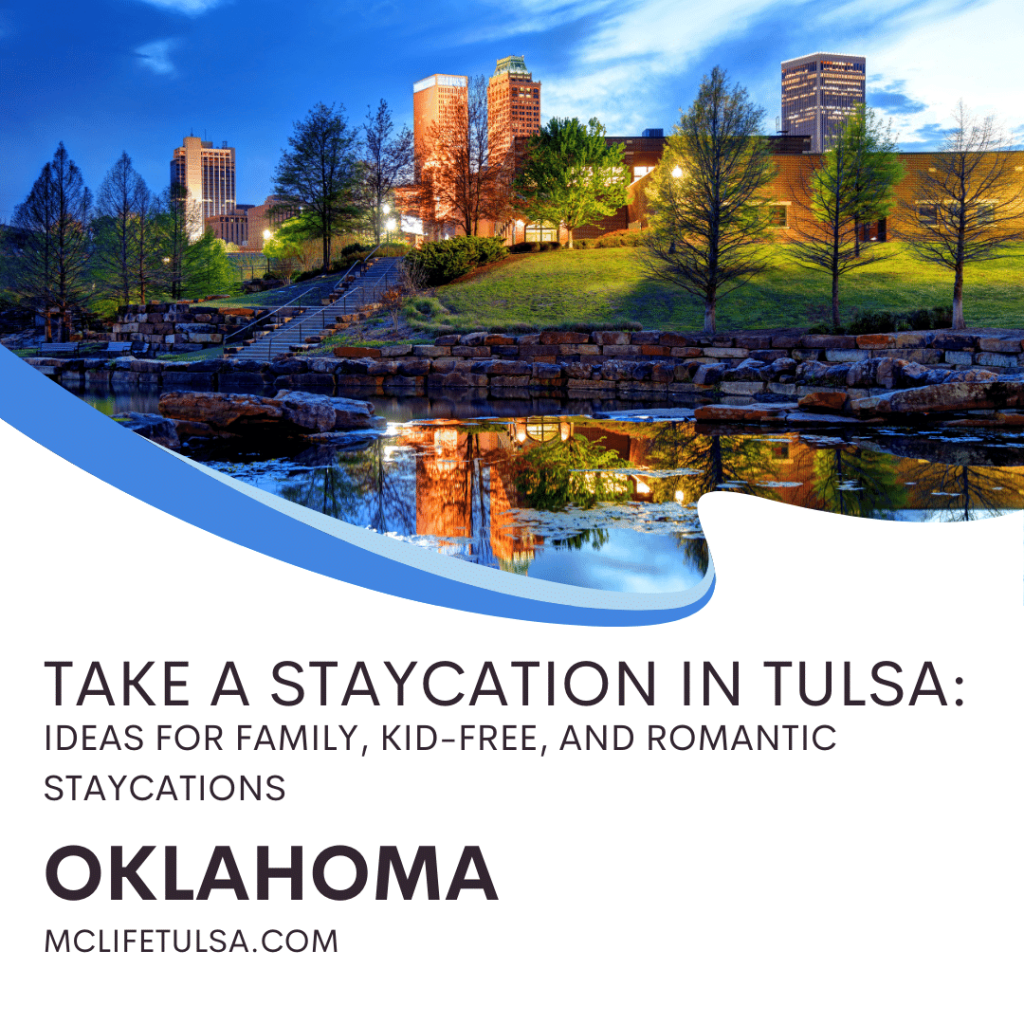 It is safe to say that no matter what you want to include in your trip you will find it, and so many things you never expected, right here in the heart of Oklahoma.
Family Staycation in Tulsa:
If you are preparing to take a trip as a family Tulsa has many family friendly opportunities to take advantage of. Plan a day at the Tulsa Zoo and Living Museum and ride the park's train through an around the world animal experience.
It makes for a day that the children and the adults will never forget. If you are looking for a more wet and wild adventure with the kiddos, try the Oklahoma Aquarium in Tulsa.
Not only will you get to view sea creatures beyond your imagination, but a walk through the underwater tunnel will give you an up close and personal view of some of the ocean's toothiest residents. Imagine your family's excitement at seeing sharks swimming overhead!
Once you have fully appreciated Tulsa's wildlife, entertain yourselves with the experience that is The Center of the Universe. Located in downtown Tulsa, this seemingly simple circle of sideway bricks has amazing effects on sound and will be sure to amaze.
Standing inside this circle every sound you make is amplified and echoed back at you louder than you ever expect, but the really tricky part is that anyone outside the circle can't hear it at all! This unbelievable natural anomaly leaves the mind guessing and usually results in lots of giggling children.
Kid-Free Staycation in Tulsa:
For those planning a getaway for the grown-ups, The Center of the Universe Festival held every summer is a dream weekend for friends. Held outdoors and featuring a plethora of musical talent on several stages, it is a party for the masses.
A local artist outdoor gallery snakes its way through the festival and some of the best of Tulsa's foods are readily available. Grab some friends and some drinks to complete this experience.
While you're in town, visit The Hard Rock Café for a rock and roll lunch or dinner. The musical memorabilia and tunes playing overhead ensure you leave feeling like a rock star ready for a night on the town.
When everyone is ready to hit the streets make sure to check out the Blue Dome District. You will be amazed at the number of restaurants, bars, pubs, and all around entertaining venues to keep you busy all night!
Romantic Staycation in Tulsa:
When the trip calls for more romance, the Blue Dome district also offers a number of quaint eateries set in the backdrop of the area's historic buildings. You can also spend a carefree evening with your love while bowling in a retro style alley or gaming it up at the 80's arcade.
To take your love affair outside the busy city streets, cuddle up on a horse drawn carriage ride to the refuge of a private sweet in a local bed and breakfast. Cedar Rock Inn is just one of your many options and offers an adults only retreat from reality that is sure to vamp up the romance factor in a private room or full home cottage. You will feel like the only two people in the world but still be close to every thing worth doing in Tulsa.
Whatever the purpose for your staycation, you can rest assured Tulsa has something to offer you. More and more people are turning to staycations instead of trips to far off destinations.
Taking a staycation in Tulsa is smarter and easier on the wallet. You can in soak in the excitement of big city living but still feel like you are in the heart of small town America. There is just something extra special about our interior states and their charm.
Middle America is a treasure trove of fun and excitement for any trip and Tulsa is the perfect Midwestern destination for your next getaway! Take a staycation in Tulsa and enjoy a vacation that matches your needs and interests without breaking the bank.