Tulsa is an awesome city with a lot to see, do, and explore. We're sharing our favorite things to do in Tulsa, and hope you'll use this list to have fun in our great city!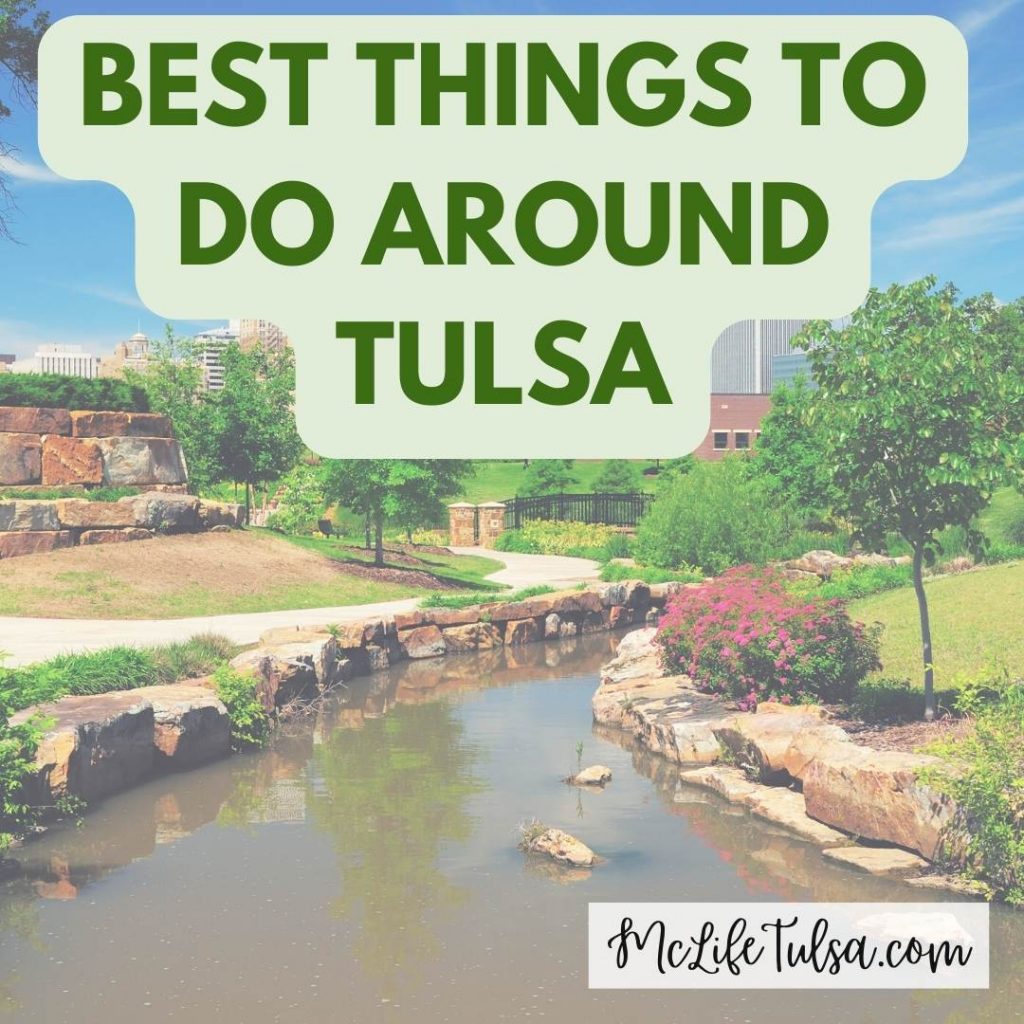 The Tulsa Spotlight Theatre is a historic venue that has been entertaining people with their comedy and dinner show, jazz nights and children's theater. If you're thinking looking for a fun date night, go for some laughs and a yummy meal at the Tulsa Spotlight Theatre. The children's theatre performances offer fun for the whole family. Located at 1381 Riverside Dr. Tulsa, OK 74127
The Cave House of Tulsa, also known as the Flintstone House is a one of a kind home that resembles rock and cave formations. The house is filled with history and quirky stories from Tulsa's past. Admission is $10 and you need to schedule your tour by appointment. Located at 1623 Charles Page Blvd, Tulsa, OK 74127
This summer we are doing to take a day trip to Northeast Oklahoma to the Illinois River! It is a destination for kayaking, canoeing, rafting and relaxing float trips. The river winds through the Cookson Hills for over 60 miles. While you float, marvel at the dogwood, white, oak, hickory, sycamore tress and redbud trees around the river. It is a great relaxing trip for you to take friends and family.
4. Go for Weekend Brunch at Chimera
Chimera is a unique little café in Downtown Tulsa with a wide variety of drinks and munchies for both vegetarians non vegetarians alike. They roast their own coffee that is supposed to be delicious! Chimera offers global cuisine in an industrial space. The breakfast menu has a variety of breakfast tacos and we want to try them all. For vegetarians, try the Tokyo Eye tacos that come packed with smoked adzuki strips, tofu scramble, poblano sauté, avocado crema. YUM! We love eating, we love brunch and Chimera is at the top of our list. Located at 212 N Main St, Tulsa, OK 74103
Keystone Ancient Forest Reserve is a nature reserve with great hiking paths in Sand Springs Oklahoma. There are a variety of events in the preserve, like bird watching and counting, guided hikes and more. The park is only open for free hikes on certain days of the week. It is a great place to experience the natural beauty of Oklahoma. Located at 160 Ancient Forest Dr. Sand Springs, OK 74063
Summer's 5th Night happens in Utica Square on Thursday nights every summer. Every week during the summer you can expect a different kind of performance. From country, to Latin Rock, to Jazz and beyond, there is musical for every taste. You can bring your own picnic or eat at one of the many restaurants in Utica Square. Performances run from 7pm – 9pm and are a great time for the whole family.
The Tulsa Ballet is a word class ballet company putting on performances that amaze audiences. There is something otherworldly and beautiful about ballet and we are making it a goal this year to go see a performance. There are four series of performances throughout the year. This February you can see Romeo and Juliet live on stage. We all could use a little more art and culture injected into our lives, and The Tulsa Ballet is a great way to do that. Located at 1212 E 45th Pl, Tulsa, OK 74105
The Tulsa Art Deco Museum in Downtown Tulsa is a unique, educational and historical landmark. While there are visiting exhibits, there are incredible ongoing exhibitions to see on our visit including:
Tulsa Art Deco:  Remnants from the Tulsa Club Building and the Halliburton Abbott Building
Art Deco Porcelain: Ceramics from the Art Deco era as well as the Late 20th Century Art Deco Revival Period
Ancient Cultures in Art Deco: The early 20th century's period of modernization took on the styles from the Egyptians and this exhibit showcases Art Deco pieces reminiscent of this culture.
Frankart:  The works of Arthur von Frankenburg
Gatsby Fashion: Fashion from the 1920s and 30s
Smoking Hot: Smoke stands and smoking accessories from the Art Deco period.
Located at 511 S Boston Ave, Tulsa, OK 74103
White River Fish Market is a favorite seafood destination for many locals. It is both a fish market and a casual seafood restaurant. They've been in business since 1932. The seafood is fresh and flavorful. You can see it in the display case before you go into the restaurant so you can tell just how good the seafood is! They have fried dinners, broiled dinners, grilled dishes, spicy gumbo and so much more! We're ready to fill up on seafood. Located at 1708 N Sheridan Rd, Tulsa, OK 74115
This is our bucket list: 10 things to do around Tulsa! With so many things to do around Tulsa, what would you put on your bucket list? Let us know in the comment section below! We're always looking for new places to eat, shop and play around Tulsa! Stay tuned to our blog for all things Tulsa!