From Ouachita National Forests' pine-covered southeast views to Wichita Mountains' rugged terrain, Oklahoma's outdoor recreation areas provide a tent-worthy landscape for your next foray into the great outdoors. Here is our Essential Guide to Camping in Oklahoma.
Oklahoma is a state full of diverse landscapes, winding rivers, and scenic mountains. With over 300 sun-filled days per year in Oklahoma, it is a great place to live and get outdoors
In addition to camping, hiking, and picnicking, most of Oklahoma state parks offer a variety of water-related outdoor activities, including boating and water sports. If you have four-legged companions, bring them along – pets are allowed if kept on a 10 foot or shorter leash, are supervised at all times, and you clean up after them.
Get the most out of your camping adventure with these handy tips.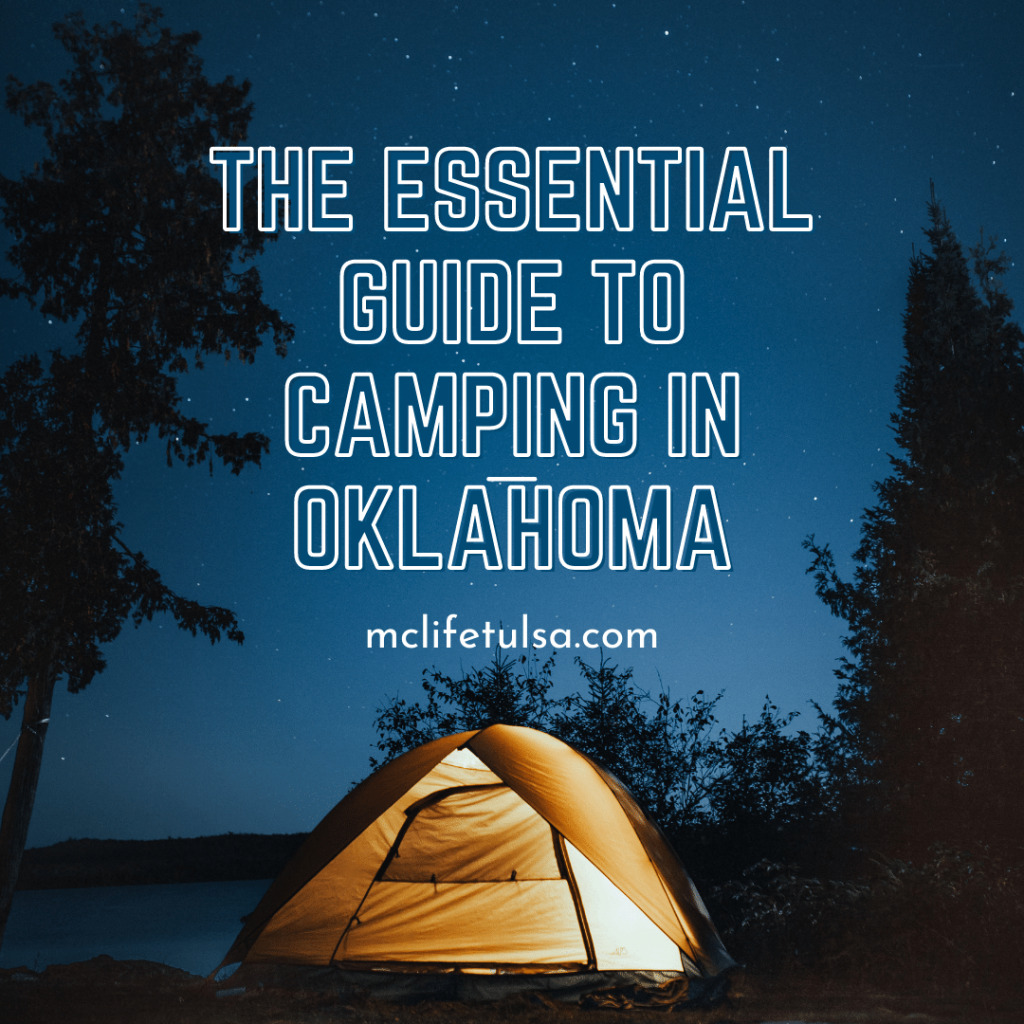 State Park Camping Amenities
The majority of Oklahoma's 32 state park campgrounds include modern conveniences such as:
fire rings
grill boxes
water supply
electric hookups
comfort stations complete with flush toilets and showers
playgrounds for children
picnic tables
Several Oklahoma state parks also host regular nature programs held by naturalists. You can find more information about which amenities each State Park has on the Travel Oklahoma website.
Oklahoma Camping Tips
One of our favorite times to plan a camping trip is during the spring and fall, as Oklahoma summers are often hot and humid. Some basics to remember are to bring plenty of sunscreen and water, and preserve the beautiful outdoor areas by leaving no trace behind when you depart.
Before loading up your sleeping bags and coolers, take a minute to ensure you've packed these basic essentials:
Shelter
Bedding
Food and water
Toiletries (toilet paper, soap, sunscreen, etc.)
Appropriate clothing
Outdoor recreation items
Compass/GPS
Map
Whistle
Flashlight
Waterproof matches
Binoculars
First aid kit
Here are the top ten Oklahoma state park camping hotspots, including the traveling distance from Tulsa:
Distance from Tulsa: 3hr 24min, 211 miles
Located in northwest Oklahoma, Alabaster Caverns State Park offers spelunking, camping, picnicking, a walking tour and a tour of the world's largest natural gypsum cave.
Distance from Tulsa: 3hr 34min, 218 miles
Located between the Glover River and the Mountain Fork River, the park's postcard-like clear waterways and towering pines are one of the most scenic and popular areas in the state. Hiking, snorkeling, biking, and golfing at Cedar Creek's 18-hole golf course are just the start of activities available to do. You can book a cabin or room at the park's riverfront Lakeview Lodge.
Distance from Tulsa: 6hr 57min, 417 miles
At 4,973 feet above sea level, Black Mesa State Park & Nature Preserve is the highest point in Oklahoma. With inspiring views of the Rocky Mountains and the shortgrass prairie, Black Mesa is home to bighorn sheep, golden eagles, antelope and pinyon jays. Don't forget to take your picture at the Black Mesa marker where you can stand in Oklahoma, New Mexico and Colorado at the same time.
Distance from Tulsa: 1hr 16min, 68 miles
See the stunning park and Greenleaf Lake by biking or hiking the 17.25 mile rugged mountain trail through the woods. The park also offers a swim beach, a nature center, amphitheater, volleyball court, and a swimming pool.
Distance from Tulsa: 2hr 20min, 127 miles
The northern Oklahoma Great Salt Plains State Park is known for its 8,960 surface acres and 41 miles of shoreline. Spend the day fishing, swimming, or digging for crystals. Accommodations include campgrounds, cabins and comfort stations.
Distance from Tulsa: 3hr 10min, 187 miles
Lake Murray State Park is the biggest state park in Oklahoma. The southern Oklahoma park hosts a variety of activities including tennis courts, an 18-hole golf course and pro shop, an ATV area for off-road vehicles,and hiking trails. The park features limitless primitive tent sites, nine RV campgrounds, RV campsites, as well as 56 park cabins and available rooms at the Lake Murray Lodge.
Distance from Tulsa: 2hr 53min, 181 miles
Fondly referred to as the state's sandbox, Little Sahara State Park sports 1,400 acres of sand dunes, making it a favorite playground for ATV enthusiasts and off-roaders. Located in northwest Oklahoma, the park welcomes Jeeps, motorcycles, and dune buggies.
Distance from Tulsa: 2hr 2 min, 115 miles
Tucked into the southeast Oklahoma San Bois Mountain range, Robbers Cave State Park visitors will enjoy hiking up to the park's outlaw cave, a canoe ride on Lake Carlton, rappelling down rock walls, or meandering miles of forested trails. Accommodations are available at the Belle Starr View Lodge, tent campgrounds, or modern RV sites.
Distance from Tulsa: 2hr 43min, 162 miles
Roman Nose State Park near Watonga boasts an array of recreational activities. Hiking, biking, canoeing, swimming, or spending the day golfing are just some activities available.The Roman Nose Lodge features modern accommodations, and RV camping is available.
Distance from Tulsa: 1hr 27min, 85 miles
If you love lakeside fun and water sports, Tenkiller State Park is your outdoor recreational destination. A favorite of divers, the lake offers a dedicated scuba diving park. A 2.2 mile nature trail is the perfect place to grab your binoculars and camera and enjoy watching native creatures and numerous species of birds.