Wondering where to work, eat, and shop in Broken Arrow?
Moving to a new city is a big deal and a big decision. You might have questions like:
Where should I live?
How close do I need to be to my place of work?
What is the commute time between work and school?
Am I close to schools for my children?
What are the school districts like?
What is in the area around the property I'm touring?
All of the questions may come into your head, along with many more. We are here to help you understand the essentials.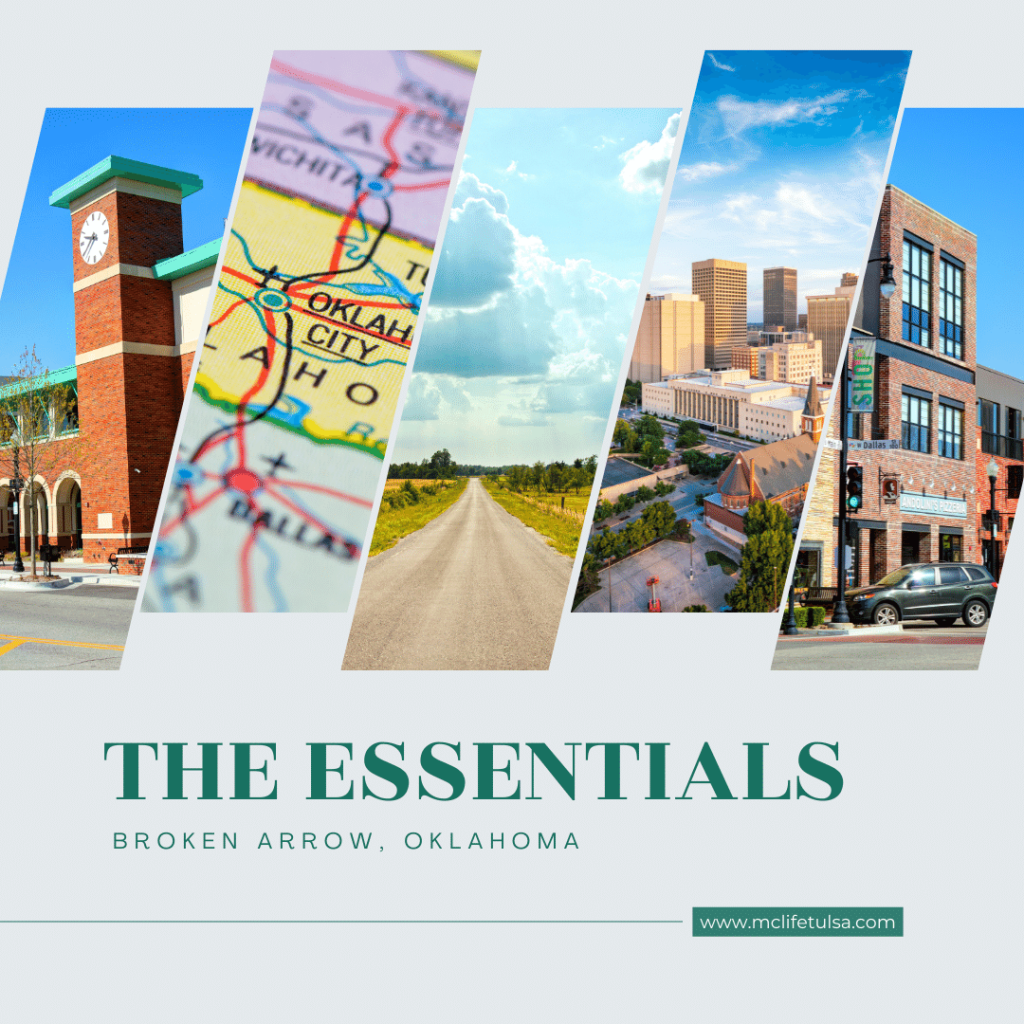 The Essentials: Broken Arrow
The essentials cover work, play, learn, eat and shop. They explain commuting, power and electricity, schools, arts and culture, hospitals, and more. The essentials will help give you the lay of the land so you can understand each community. Let us help you envision what life would be like in a new city or town.
Our property in Broken Arrow is called The Place at Quail Hollow.
is the largest suburb of Tulsa. Broken Arrow's name derives from an old Creek tribe that settled in the area after leaving Alabama on the Trail of Tears. In its beginnings, Broken Arrow's economy was dependent on agriculture.
In the early 20th century it was an important city in coal production. Considered as a bedroom community, Broken Arrow is undergoing economic development plans to keep residents shopping, working and eating there rather than going to nearby Tulsa.
Downtown Broken Arrow is known as the Rose District. There are farmers markets held  at 418 S. Main St. and they have an event calendar that lets residents know about fun happenings in Broken Arrow.
The Rose District is revitalizing Broken Arrow and making it a cultural and artistic destination. Now that you have some background on Broken Arrow, let's look closer at The Place at Quail Hollow.
---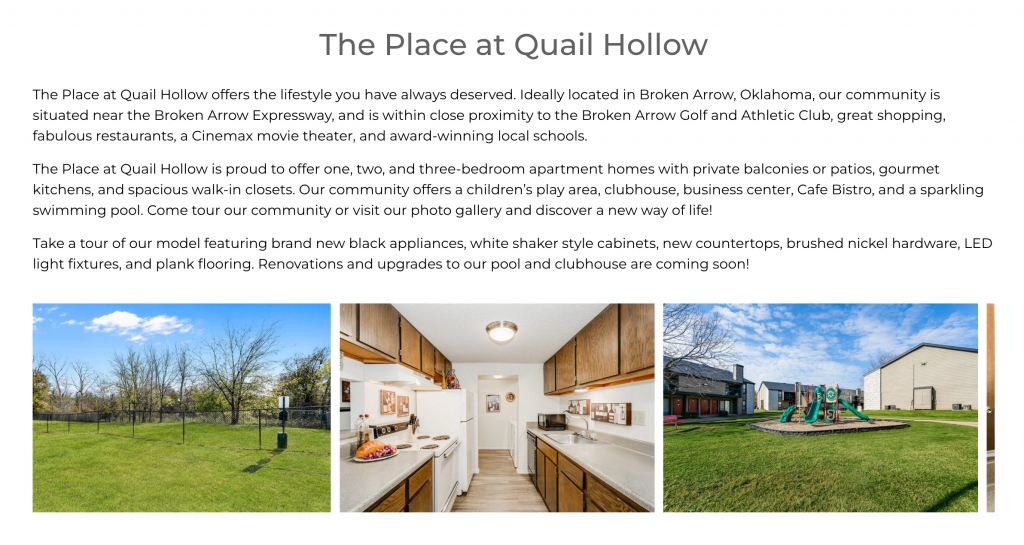 If you're moving to Broken Arrow, you will want to know the basics. For example, what do you do about utilities? The utility deposit is $100. You can pay for your utilities online and the city of Broken Arrow also offers budget payment plans for those who need to tighten their wallet.
Post Offices in Broken Arrow, OK
There are two USPS locations in Broken Arrow and one of them is only 1.2 miles away! US Post Office: 2801 East Kenosha Street, Broken Arrow, OK 74014
Schools in Broken Arrow, OK
Broken Arrow Public Schools is the public school district in Broken Arrow, Oklahoma. It is home to 14 elementary schools, 10 secondary schools, as well as the Tulsa Tech Center-Broken Arrow Campus and the Broken Arrow Beauty College. There are many schools within 5 miles of The Place at Quail Hollow.
Medical Clinics in Broken Arrow, OK
While you never want to be in a medical situation that requires rushing to urgent care, there are many medical facilities in Broken Arrow.
From specialty care, to pediatric medicine and psychiatric facilities, there are quite a few options to choose from. Here are just a few:
Restaurants, Bars, and Shops in Broken Arrow
Broken Arrow has a lot of great shops, bars, and restaurants. One of our favorite shops is Time Passages French Country Market. IT is an old vintage café, tea house and shop. Meet friends there over a cup of hot tea and some delicious treats, or shop for art made by local Oklahoma Artists. It's a great stop to find one-of-a-kind handmade pottery, soaps, linens, glassware and more.
Another favorite is the Oklahoma based Hideaway Pizza. Hideaway Pizza was founded in 1957 in Stillwater OK. They have locations throughout OK now and we are happy to have one in Broken Arrow. They serve up some of the best pizza around and we love their speciality options.