Get into the spirit of the Holiday season with festivals and holiday events happening around Tulsa this November and December. Whether you're looking for things to do with the kids, places to find unique gifts or simply want to enjoy the twinkling Christmas lights, there is something for everyone in Tulsa!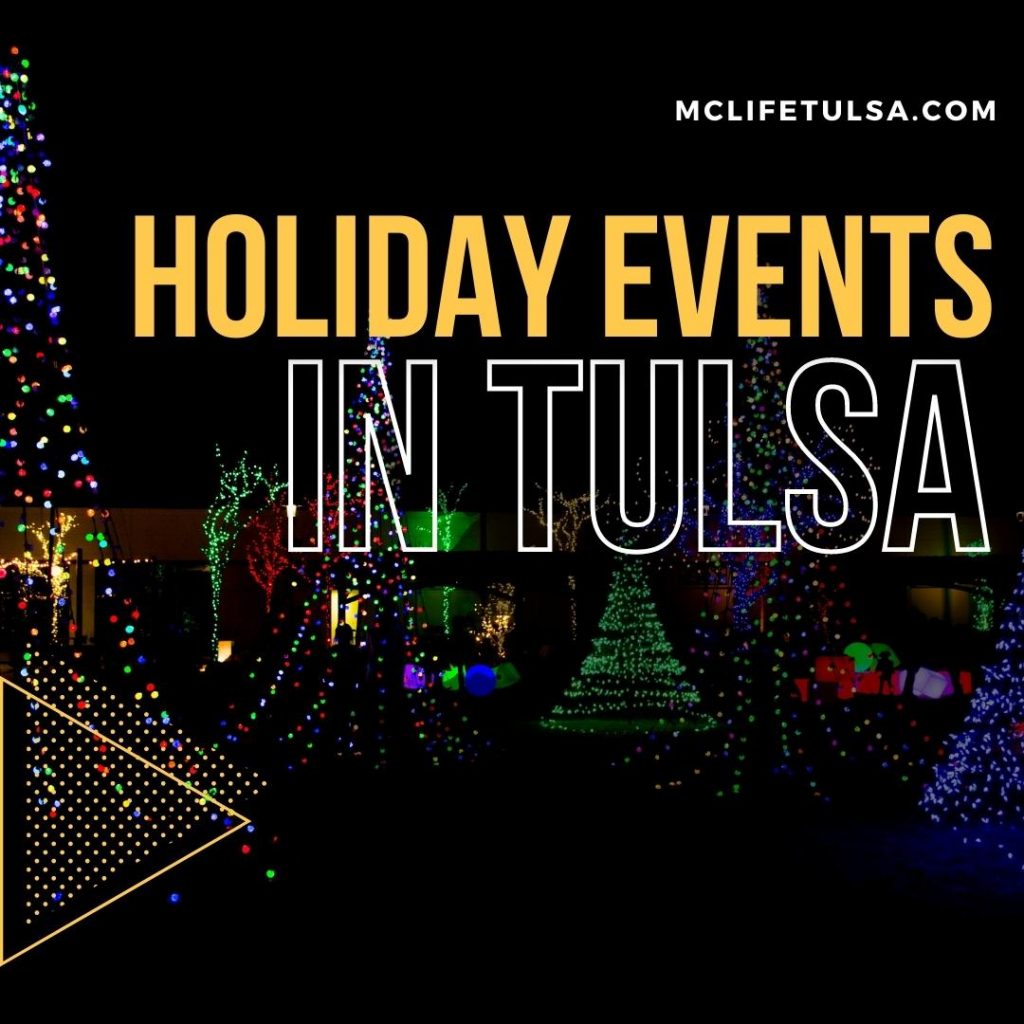 Top holiday events around Tulsa.
Garden Glow
Where: Philbrook Museum of Art – 2727 S Rockford Rd, Tulsa, OK 74114
What: This free public opening event brings visitors the glow of the holiday season. Enjoy cocoa, holiday art activities, and marvel at the Philbrook Gardens lit up in lights. It's a fun, family friendly event to kick off the holidays.
The Polar Express Holiday Train
Where: Oklahoma Railway Museum – 3400 NE Grand Blvd Oklahoma City, OK 73111
What: Hop on the Polar Express during the holiday season. This one hour ride brings the classic storybook to life, with hot chocolate, dancing chefs, elves and Santa! It's a family friendly event that will have the kids excited for the holidays.
Thursday Night Lights
Where: Philbrook Gardens at the Philbrook Museum of Art – 2727 S Rockford Rd, Tulsa, OK 74114
What: Head to the Phillbrook Gardens for their holiday festival of events! On Thursday Night Lights, you can enjoy live music, stroll through the glowing gardens and find unique gifts from local artists in the museum shop.
Castle Christmas
Where: The Castle of Muskogee – 3400 W. Fern Mountain Road, Muskogee.
What: Castle Christmas is a winter wonderland filled with holiday inflatables, a petting zoo, plus hayrides, horse-drawn carriage rides and more! You can drive through Castleton Village which features over 2,000 holiday displays and thousands of twinkling Christmas lights! There are many things to do see at The Castle of Muskogee as part of their Christmas celebration.
Lights On!
Where: Utica Square – 21st Street and Utica Avenue
What: Lights On is a well-loved holiday tradition in Tulsa. Sip hot chocolate with your family and friends while you sing holiday carols and countdown until the lighting of over 700,000 twinkling lights. Santa Claus will be there for this family friendly seasonal event.
Chandler Park Lights on the Hill
Where: Chandler Park – 6500 W. 21st St. Drive
What: Chandler Park is filled with thousands of bright lights and whimsical displays. This free event will put your family into the holiday spirit!
GLOW on the Green
Where: Guthrie Green – 111 E Mathew B. Brady St, Tulsa, OK 74103
What: Guthrie Green transforms through Glow on the Green for the holiday season with over a dozen vendors, live entertainment, food, drinks, fun and photos with Santa and Mrs. Claus! These free events are open to the public and are a great way to celebrate the season and find unique holiday gifts.
Tulsa Winterfest
Where: BOK Center – 200 South Denver Ave W, Tulsa, OK 74103
What: Enjoy outdoor ice skating, horse drawn carriage rides, live music and more at the BOK Center for Tulsa Winterfest.
Christkindlmarkt
Where: German American Society of Tulsa – 1429 Terrace Dr, Tulsa, OK 74104
What: Experience Christmas at an Old World market in Bavaria, Germany. Purchase unique gifts like Nutcrackers, Smoker-männle, imported Christmas tree ornaments, as well as Germany's famous Christmas Stollen. Admission is free to Christkindlmarkt and all are welcome!
Civitans Christmas Parade
Where: Downtown Broken Arrow
What: The annual Broken Arrow Civitans Christmas Parade in Downtown Broken Arrow. The parade begins at College Street and will head south through the Rose District, it concludes south of Central Park Community Center. This family friendly event is a great way to get ready for the holiday season.