Moving takes a lot of stress, time and energy. That's why it is important to have all of the facts and information before making a move. Are you thinking about packing up and moving to Tulsa? MCLife Tulsa wants you to know all about Tulsa before taking the plunge. Here are 10 things to know before moving to Tulsa.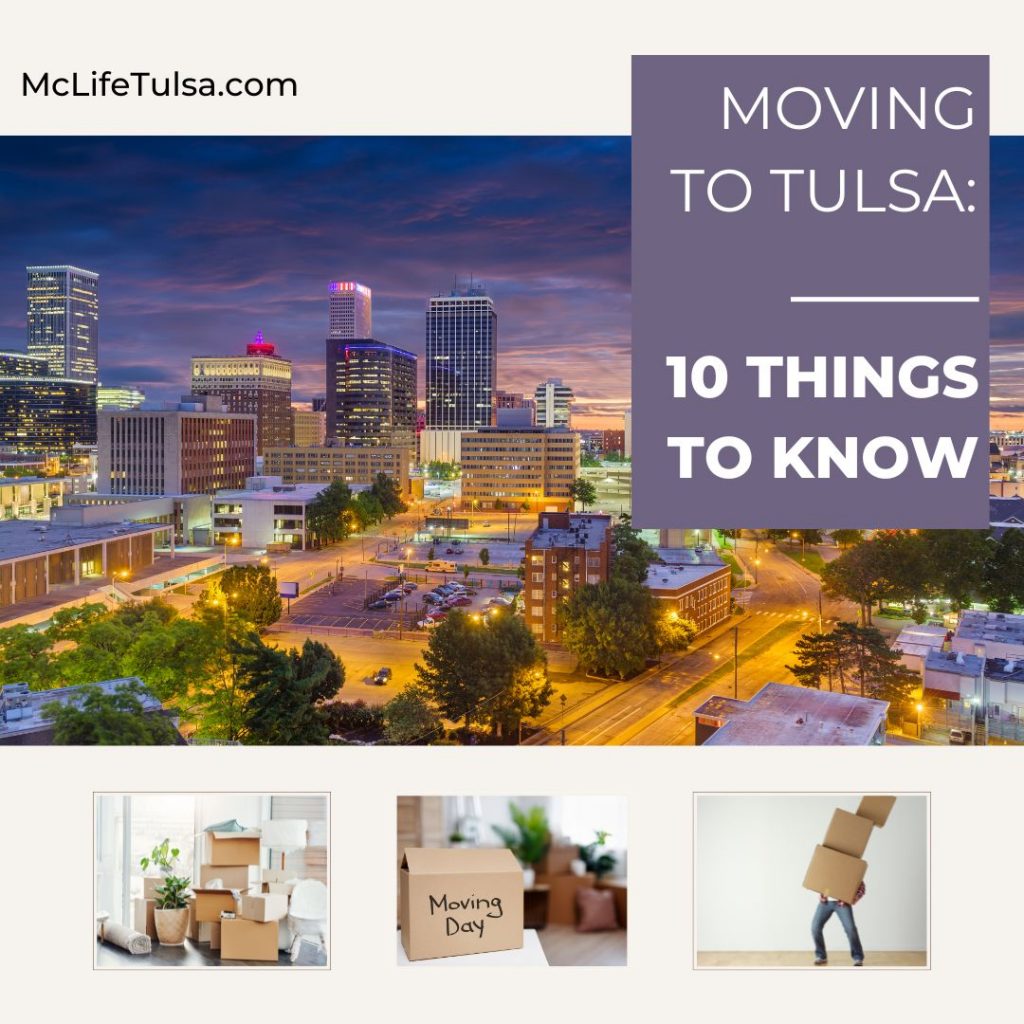 1. Tulsa is home to great Arts & Culture events.
If you are looking for live music head to Cains Ballroom, the BOK Center, the Brady Theater. Major acts as well as great local acts cycle through Tulsa all the time. It's actually a great city for music. Tulsa is also home to a ton of incredible festivals! For example, the Rock n Rib Festival draws enormous crowds. Oktoberfest takes over Tulsa every year and the Arabian Horse Association's U.S. National Competition is one of the largest horse shows in the world. The Brady Arts District is home to the Center of the Universe Festival every year, along with many other massive festivals.
2. Tulsa has a low cost of living
Tulsa has a low unemployment rate, and an even lower cost of living which is 14% lower than the national average! On the Cost of Living Index, Tulsa ranks 82 out of 100.
3. There's more than just the oil and natural gas industry.
While the oil and natural gas industry is huge in Tulsa, there are a lot of other industries that are growing in Tulsa. Aerospace, Healthcare, Transportation and Telecommunications are all expanding industries.
4. You need to be a careful driver.
In Tulsa, you can be pulled over for being distracted. So keep off that cell phone! You should also be aware of one way streets downtown, there are a lot of them! U-Turns are illegal in Tulsa – so don't do it!
Get to know the layout: East-west streets are numbered; north-south streets are alphabetical. Odd-numbered addresses are on the north or east side of the street. Even-numbered streets are on the south or west side of the street.
5. We're incredibly dog friendly!
You can pretty much bring your dog everywhere in Tulsa. There are a ton of dog friendly restaurants. A few of our favorites are: The Wild Fork, Queenie's Café and Bakery, and The CaneBrake. Tulsa is also home to many off the leash dog parks! We recommend Biscuit Acres Dog Park, and Joe Station Bark Park.
6. It's easy to get around!
Commute times in Tulsa are incredibly low. Nearly 75% of Tulsans get to work in less than 30 minutes and the average commute time is only 18 minutes. With reasonable bus rates, and easy highway access, it is easy to jet around Tulsa. Plus Tulsa is home to Greyhound stations, Amtrak and the Tulsa International Airport.
7. There's a lot to do outside.
Tulsa has moderate temperatures and mild seasons which means you can spend more time outside. Head to The River Parks to run, cycle, or play sports; it's 26 miles of surfaced trails! Plus it is home to many competitions, concerts and festivals year round. The Turkey Mountain Wilderness Area is a hot spot for cyclists looking for a challenging ride.
8. Tulsa is home to many diverse neighborhoods.
If you are looking to move downtown, you will need to look in the smaller subdivisions which include the Blue Dome and Brady Arts Districts, Eastwood Village, SoBo, and the Riverview Historic District. Downtown Tulsa is connected to the Interstate 244 and Highway 64 and Highway 75.
Each neighborhood is unique, and different, with some that are populated with more young professionals, while other are great to raise a family.
9. An Adventure is just a day away!
You can easily explore Oklahoma with fun, easy day trips from Tulsa. Get to know and see pieces of Oklahoma history on an i-44 day trip! Explore the Shawnee Trail and get a taste of cowboy country. Oklahoma has a rich history and a lot to see so don't be afraid to take an adventure or tow.
10. Tulsa takes football very seriously.
If you aren't an Oklahoma Sooners fan, or an Oklahoma State Cowboys fan, you better keep that quiet. Sports rivalries are alive and well in Oklahoma, with high school rivals being larger than life. So you better get on board with football if you are going to move here!