There are many animals in Tulsa in need of adoption and we're here to introduce you to a few of them.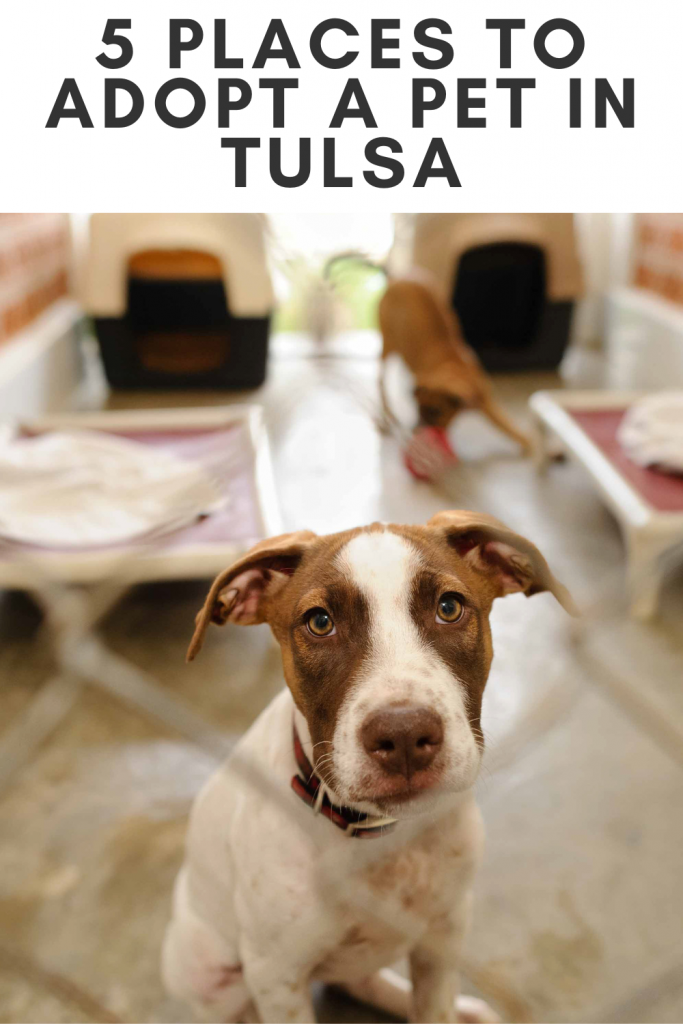 5 Places to Adopt a Pet in Tulsa:
Pet adoption not only saves a pet in need, it can also help you! There are so many studies on the happy, healthy brains of people who have pets. Their undying love and affection can really have such a positive impact on our lives. Adopt a pet in Tulsa and see the positive changes that go both ways!
918-495-3647
6232 E. 60th Street Tulsa, OK 74135
Tues.-Sat. 10am-5pm
The Humane Society of Tulsa is working hard everyday to save pets from dangerous situations. They work to take in pets that are located in shelters that will euthanize them, they take in unwanted or neglected pets, and they work in the community to help prevent unnecessary overpopulation due to non-spayed or neutered pets! They are always looking for great homes for their cats and dogs but they are also happy to have donations or volunteers. If you can't adopt a pet of your own you might consider volunteering your time instead. Check out their website for more information on their available pets. You can download the application for adoption above as well!
918-428-7722
2910 Mohawk Blvd, Tulsa, OK 74110
Monday, Tuesday, Thursday, Friday, & Saturday 10am-5pm
Another great organization in Tulsa that is doing amazing work to speak for the pets who can't speak for themselves. The Tulsa SPCA has many adoptable pets. If you are looking to adopt a pet in Tulsa you can check out all of the furry faces that are available on their website or in person. They have an online application for adoption which you can fill out ahead of time to make the process more simple and quick.
5201 S Yale Ave, Tulsa, OK 74135
Wed-Saturday 12-4pm
A small local rescue that is working to help Tulsa pets find their forever homes. Animal Rescue Foundation has an online application, many adoptable pets, and they work with several clinics and foster homes to help as many pets as possible. If you are looking to adopt a dog or cat in the Tulsa area you may want to check with ARF to see if they have your new family member just waiting for adoption!
Bixby, OK 74008
The Pet Adoption League is actually in Bixby but it's still very close to Tulsa. You can help Pet Adoption League on their mission to help pets who are 5 years and older, handicapped in some way, or those who have been orphaned by the death of an owner. These are pets who need your help and love the most! You can make a huge impact by adopting from an organization like Pet Adoption League.
3031 N Erie Ave, Tulsa, OK 74115
The Tulsa Animal Welfare Shelter is working hard to help get needy pets into their furever homes! They have all kinds of animals but they do have a plethora of dogs and cats who need to find happy, loving, homes in the Tulsa area. You can complete an application for adoption and see their fees on the website! Schedule a visit if you have existing pets or children so everyone can be sure to get along long term.
No matter where you choose to adopt a pet in Tulsa you will find that the experience itself is so worthwhile. The love that you can share and receive from your new pet will be immense. With a happy, furry, home I can say from experience that shelter pets have a way of knowing that you've given them a special gift. They will pay you back in gratitude and love for the rest of their lives!