Gather around with friends and family on Sunday for a fun football party. One of our favorite things about football is the delicious treats that come with it. We're bringing you our favorite Super Bowl party snacks! Your football party is sure to score a touchdown with these sweet and savory treats.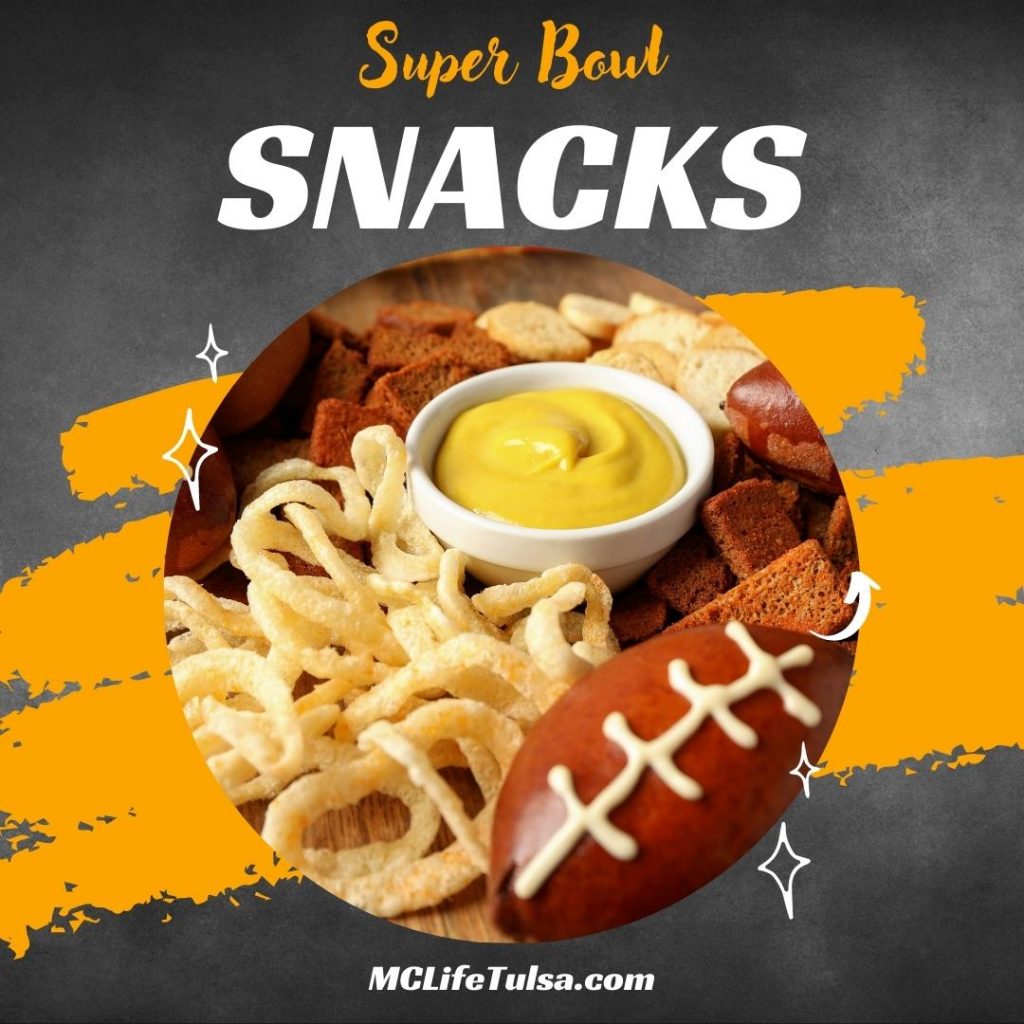 This yummy recipe comes from Delish for buffalo ranch waffle fries. Since it combines two of our favorite things, waffle flavors and spicy buffalo, we are all about it. It is super easy and straightforward to make!
Ingredients:
1 bag frozen waffle fries
1/3 c. buffalo sauce
1 packet ranch seasoning mix
Ranch dressing, for dipping
1 tbsp. diced scallions (optional)
Directions:
Preheat oven to 350°F.
Toss waffle fries in buffalo sauce and Ranch dressing.
Spread in an even layer on a baking sheet and cook for 18 to 20 minutes, or until fully warmed.
Serve with a drizzle of Ranch dressing and top with scallions, or simply place a cup of Ranch dressing near fries for dipping.
2. Satisfy your sweet tooth with Reese's Nachos
We found this recipe for Reese's Nachos from Delish and it has us drooling. It is another combination of some of our favorite things: chocolate, peanut butter and nachos. This is our dream dessert and it is great for sharing at our super bowl party.
Ingredients:
20 graham crackers, broken into pieces
6 Reese's Peanut Butter Cups, chopped
1 packet Reese's Pieces
1 c. mini marshmallows
1/4 c. peanut butter, warmed in microwave
1/4 c. melted chocolate
Directions:
Heat broiler.
In an ovenproof skillet, layer graham crackers, Reese's, Reese's Pieces, and mini marshmallows.
Drizzle with peanut butter and chocolate and transfer to oven.
Heat until marshmallows are toasted and nachos are warm. Serve immediately.
This adorable and delicious recipe for Muffin Cup Macaroni and Cheese comes from Food and Wine. It is a playful way to serve mac n cheese at your super bowl party!
Ingredients:
4 tablespoons unsalted butter, plus more for greasing
2 tablespoons all-purpose flour
2 cups whole milk
8 ounces sharp cheddar cheese, shredded
Salt
Freshly ground black pepper
8 ounces ditalini
1/3 cup fresh bread crumbs
Directions:
Preheat the oven to 350°. Grease either a mini muffin pan with 24 cups, or a regular-size muffin pan.
Heat 2 tablespoons of the butter in a saucepan over moderate heat. Add the flour and cook, stirring until smooth, for 1 minute.
Add the milk and cook over moderately low heat, stirring occasionally, until thickened, about 10 minutes.
Add the cheese and stir until it's melted and the sauce is completely smooth. Keep the sauce warm over very low heat.
In a medium pot of boiling well-salted water, cook the pasta until al dente. Add the pasta to the cheese sauce and stir to coat completely. Divide the macaroni and cheese evenly among the muffin cups.
In a small skillet over moderate heat, melt the remaining 2 tablespoons of butter. Stir in the bread crumbs and cook, stirring, until they are golden and toasted, 3 to 5 minutes. Sprinkle the toasted bread crumbs over the tops of the macaroni and cheese muffins.
Bake until golden and bubbling, about 15 minutes. Let the macaroni cool in the cups for 5 to 10 minutes before removing them and serving.
Bonus tip: Mac and cheese muffins can be baked, cooled and then wrapped individually in aluminum foil and frozen. Reheat in the oven or microwave
Seven layer dip is one of our favorite snacks and The Girl Who Ate Everything has an cute recipe for individual seven layer dip cups! It is easy, fun and your guests will love it.
Ingredients:
1 (16 ounce) can refried beans
1 (1 ounce) package taco seasoning
1 cup guacamole (or make homemade guacamole)
1 (8 ounce) container sour cream
1 cup chunky salsa or pico de gallo (or make homemade pico de gallo)
1 cup shredded cheddar or Mexican blend cheese
2 Roma tomatoes, diced
½ bunch of green onions, sliced
1 (2.25 ounce) can of sliced olives, drained
8 (9 ounce) plastic tumblers
tortilla chips
Directions:
In a small bowl mix taco seasoning with refried beans. Some people prefer to mix their taco seasoning with the sour cream layer but I wanted a bright white layer so I did it with the beans.
Here's how the layers are assembled:
Layer 1: beans and taco seasoning; Layer 2: sour cream; Layer 3: guacamole; Layer 4: salsa or pico de gallo; Layer 5: cheese; Layer 6: tomatoes; Layer 7: green onions and olives
In each plastic glass, layer about 2 Tablespoons of the beans, followed by 2 Tablespoons of sour cream, 2 Tablespoons of guacamole, 2 Tablespoons of salsa or pico de gallo, and 2 Tablespoons of cheese. Make sure you drain your salsa or pico to get the excess liquid out before you pour it on. Then top with about 1-2 teaspoons of tomatoes, olives, and green onion (If making ahead of time, wait to add these toppings until shortly before serving).
Garnish with one tortilla chip. Store in the refrigerator until serving and serve with chips. Makes around 8 individual dips.
An easy snack is this Cheesy Taco Snack Mix from With Salt and Wit! It is a tasty treat that will be a nice addition to any table.
Ingredients:
4 cups lightly salted popcorn
2 cups pretzels
2 cups gluten free cheesy crackers
1 cup peanuts
⅓ cup coconut oil, melted
⅓ cup hot sauce
2 Tbsp Taco Seasoning
Taco Seasoning:
1 Tbsp chili powder
1 Tbsp cumin
1 Tbsp onion powder
1 Tbsp garlic powder
1 Tbsp paprika
1 Tbsp oregano
1 tsp salt
1 tsp cayenne powder
Directions:
Preheat oven to 300 degrees F. Line a large baking sheet with a silicon baking sheet or parchment paper.
In a large bowl, add the popcorn, pretzels, crackers and peanuts.
In a small bowl, combine the melted coconut oil, hot sauce and taco seasoning. Pour over the popcorn mixture and toss well to complete coat.
Spread out onto prepared baking sheet evenly, trying not to overlap too much.
Place in oven. Bake 40 minutes, stirring every 10 minutes. When done baking, remove from oven, let cool then store in an air tight container.
We found this delectable recipe for Rum Citrus Punch from Cookistry. Punch is a great option for parties since one batch can satisfy a large group.
Ingredients:
1 12-ounce can frozen orange-pineapple-banana juice concentrate
1 12-ounce can frozen orange-peach-mango juice concentrate
9 cups water (to dilute the concentrate per recipe instructions)
1/4 cup yuzu* juice
1 cup Captain Morgan Grapefruit Rum
Frozen or fresh fruit, to garnish
Bitters, optional (cherry bitters would be nice!)
Directions:
Combine the frozen concentrates, water, yuzu juice, and rum in a large pitcher, punch bowl, or ice tea dispenser.
Stir until the frozen concentrates are melted and mixed in.
Fill each glass with ice at serving time. Add a dash of bitters (if you're using it), then add the punch.
Garnish with fresh or frozen fruit, as desired. In this case I used peaches. Note that if you use frozen fruit, it will help to keep the drinks chilled without diluting them.
*Yuzu is a Japanese citrus that I'm rather fond of. You can buy the bottled juice online if you can't find it elsewhere. Or substitute lime juice – the flavor isn't the same, but it will give you another flavor that isn't already in the mix.
There you have it! These are our favorite Super Bowl Party Snacks! They are sure to be a bit hit at your football party this weekend. Let us know in the comment section below what your favorite recipes are and what you think of our picks! Stay tuned to our blogs for the latest content in all things eat, shop and play.